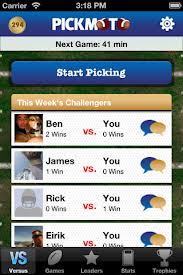 Pickmoto, a startup app developer seeking to firmly establish itself in the growing market for social betting has expanded its offerings by adding a version for the iPad. Currently the app runs on iPhones, with an Android version "coming soon."
The latest move is a welcomed one because while the app works well on a smartphone, a tablet simply provides additional viewing space and so makes that app easier to view and simpler to use.
The game follows the same procedure as with a smartphone including picking winners with no spread, playing friends one on one, or random opponents. You can win trophies, climb a leaderboard and play in preseason, regular and post season as well.
The company is moving pretty fast for one that was just established earlier this year and it already has its sights set on expanding to additional sports. With hockey an obvious no-no due to the lockout it has targeted the National Basketball Association and said that it expects that it expects to have a sports betting app out for the NBA by the opening regular season tip-off.