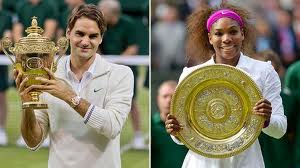 ESPN's decision to make available all of the recent Wimbledon's matches has paid off with record viewership both for broadcast and online as the company cashed in on its bet to broadcast the entire tournament.
The digital demand saw a massive increase, just as ESPN's broadcast of the recent Euro 2012 Tournament, showing the strong growth in interest in watching sports via more than just traditional broadcast medium.
Viewership for the Ladies' Championship was up 5% from the previous year while for the Gentlemen's it was up 39% over 2011's match, and there were many additional highlights over the course of the two week tournament.
ESPN reports that its overall audience grew, that it grew younger (a good sign for the sport) and that overall it had five of the top ten most viewed Wimbledon matches that it has broadcast in a decade this year.
The overall ratings matched last year's shared broadcast, when the tournament broadcast was shared with NBC and shown on ESPN2. For this year as the sole broadcaster ESPN's ratings were up an average 40%.
The Gentlemen's Championship lead the way with Roger Federer's four match victory over Andy Murray bringing in ESPN's all time highest rated match with a 2.9 coverage rating.
ESPN reported that across all of its digital platforms demand was nearly triple compared to last year. ESPN3/WatchESPN registered 126 million live minutes of viewing across all platforms, up 182 percent from 2011 lead by the Federer vs. Murray match which drew in 23.6 million live minutes watched, significantly better than the second best numbers ported on Friday, July 7 of 16.2 million.