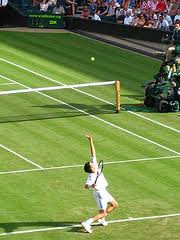 Wimbledon is here, the one grass court championship in the Grand Slam pantheon. One of the most watched, if not the top tennis tournament of the circuit is about to begin, with qualifying for unseeded players occurring last week. The tournament will run from June 25 to July 8 this year.
There will be much to watch for during the two week tournament. Will Roger Federer win a record tying 7th Men's Singles title? Will the Williams sisters return to form and dominate? Will the torrential rainstorms that flooded much of northern England move south rather than east?
The event is held at the All England Lawn Tennis and Croquet Club and the seedings are in, with a few surprises. On the Men's side Novak Djokovic has the top spot followed by Rafel Nadal, Roger Federer and Andy Murray. Between the top two they have won the last none major tournaments and Federer has been strong at Wimbledon, although has slipped in the last few years. Between the three of them they have owned the top tournaments over the last seven years. I think it would be nice to see a great upset and a new rising star in the sport, but not sure of that will happen.
On the women's side Maria Sharapova, fresh off her French Open victory, has top honors, followed by Victoria Azarenka, Agnieszka Radwanska, and Petra Kvitova is fourth. Serena Williams, a four time winner on grass, is the sixth seed while her sister Venus, still dealing with Sjogren's syndrome, an autoimmune disease that can cause fatigue and joint pain was unseeded.
Broadcast
If you are looking for the match on the television tune into ESPN, which will be broadcasting 140 hours of play across a number of its properties including nine screens on ESPN3 so that you can view any match you wish and all of the action will also be on WatchESPN and via a mobile app as well.
The two main channels, ESPN and ESPN2 will have three days where they are both showing matches simultaneously so that a viewer can hop back and forth to view the ones that they are most interested in.
The network will be showing four historic Men's finals on ESPN Classic, each shown on the anniversary of the match. In addition users of ESPN on Demand can watch highlights as well as historic matches.
Last year ESPN signed a 12 year deal to broadcast Wimbledon and the network will be expanding its US Open announcer John McEnroe to host a preview show called Breakfast at Wimbledon. With all of the coverage the network has a large staff covering the event including Darren Cahill, Cliff Drysdale, Mary Joe Fernandez, Brad Gilbert, Patrick McEnroe and Pam Shriver. Chris Fowler will call matches and serve as studio host, sharing that role with Hannah Storm and Mike Tirico.
Mon, June 25 6:30 a.m. – 5 p.m. Early Round Action ESPN2 / ESPN3
Tue, June 26 – Thur, June 28 7 a.m. – 5 p.m. Early Round Action ESPN2 /ESPN3
Fri, June 29 7 a.m. – 5 p.m. Early Round Action ESPN / ESPN3
Sat, June 30 8 a.m. – 3 p.m. Early Round Action ESPN / ESPN3
Mon, July 2 7 a.m. – 5 p.m. Round of 16 ESPN2 / ESPN3 8 a.m. – 3 p.m. Round of 16, Centre Court ESPN / ESPN3
Tue, July 3 7 a.m. – 4 p.m. Ladies' Quarterfinals ESPN2 / ESPN3 Live 8 a.m. – 1 p.m. Ladies' Quarterfinals, Centre Court ESPN / ESPN3
Wed, July 4 7 a.m. – 4 p.m. Gentlemen's Quarterfinals ESPN2 / ESPN3 8 a.m. – 3 p.m. Gentlemen's Quarterfinals, Centre Court ESPN / ESPN3D / ESPN3
Thur, July 5 8 a.m. – 1 p.m. Ladies' Semifinals ESPN / ESPN3D / ESPN3
Fri, July 6 8 a.m. – 2 p.m. Gentlemen's Semifinals ESPN / ESPN3D / ESPN3
Sat, July 7 9 a.m. – 2 p.m. Ladies' Final ESPN / ESPN3D / ESPN3
Sun, July 8 9 a.m. – 3 p.m. Gentlemen's Final ESPN / ESPN3D / ESPN3
If you want to follow the matches via Twitter, or an individual player or announcer a good place to check out would be TennisTweets which has an exhaustive list of players that you can follow as well as a running board with the latest from a variety of sources.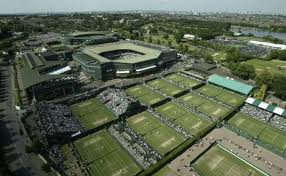 The official Wimbledon web site is a very clean and easy to use web site. Want to watch video or listen to the games live on the radio-it is there. Get an app for your smartphone or view the history of the event. All there. Interviews, weather forecasts, as well as what you would expect with all of the draws, schedules and results.
If you happen to be wondering about grass courts, according to Wikipedia they tend to be slippery, with the ball, while remaining fast, staying low. The majority of the grass courts worldwide are located in England and they need to be reseeded annually, and so have a higher cost of maintenance.
This year you may very well see a great deal more play on grass than in previous years because the Summer Olympics, held in under two months in London, will see its tennis matches played at the All-England Club as well.