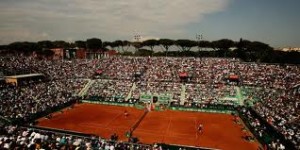 With several important tennis events in the next few weeks ESPN will be featuring a total of 14 consecutive days of broadcasts as the tennis world ramps up for the big clay court event at the end of the month, the French Open.
The preliminaries are the ATP World Tour event, the Mutua Madrid Open that is being held in Madrid, and which started this morning and run until Sunday, May 12. Of course with the time zone difference the events will be mostly very early morning viewing for American fans who can tune into ESPN3 for the matches. The championship broadcast will start at 10:00 am ET on the 12th.
Among the top players participating in the Mutua Madrid Open are some of the top ranked men and women players in the world including Novak Djokovic, Roger Federer, Andy Murray, David Ferrer, Serena Williams, Maria Sharapova, Victoria Azarenka, Agnieszka Radwanska and Li Na.
This will be followed by the Internazionali BNL d'Italia, with some of the schedule still undecided at this time. This tournament, held in Rome, will start on May 13 and continue until the championship broadcast on Sunday, May 19 at 10 am ET.
Overall the network will feature 200 hours of tennis broadcasting from those two tournaments, and this will all naturally lead into the French Open later in the month. The outcome of these earlier tournaments helps dictate rankings of that and other Grand Slam events that will also be broadcast on ESPNs network of channels and online properties. ESPN will be broadcasting the French Open on ESPN2 starting Sunday, May 26.