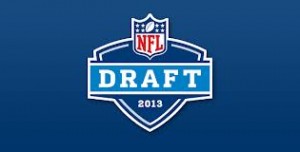 As any fan knows the 2013 NFL Draft starts on Thursday and while there has been a great deal of coverage leading up to the event, it looks like that will pale in comparison to the massive coverage the league's network plans.
Most fans I know switch between networks on draft day, checking to see what the experts at ESPN, the NFL Network and elsewhere have to say about each choice. Yet an issue can arise since the draft starts on a Thursday night and even with a prime time start there are many that have to work or have other engagements that might make it impossible to be in front of the television. There is online coverage as well as a mobile app for these types of problems.
For the online user, be it as a second screen or a user watching at work there is the NFL.com Live Presented by Courtyard. Coverage begins at 8:00 pm ET for the online effort and will be hosted by Matt Smith and will include former NFL players LaDainian Tomlinson, Kurt Warner and Akbar Gbajabiamila, as well as former NFL general manager Charley Casserly. The online show will occasionally join with the NFL Network's broadcast of the event.
Coverage will continue over the weekend with Friday's starting at 6:30 pm ET for rounds 2-3 and Saturday's coverage of rounds 4-7 will start at noon ET. Much of Saturday's proceedings will be simulcast.
For Verizon subscribers there is the option of using NFL Mobile from Verizon that will be streaming the NFL Network's entire 2013 draft coverage. The network has also added a live draft tracker feature and video on-demand featuring draft and team analysis. NFL Mobile, however, costs $5 a month and you must have a Verizon phone and data plan.
For users of the NFL '13 app, a free app for both iOS and Android owners, there is now a feature called Draft Xtra that can serve as a companion or second screen to both broadcast NFL Network coverage or the coverage that is available on NFL.Com. It will include both on-demand and live video as well as a range of interactive features.
Of course there has been a great deal of coverage both online and on the broadcast arm of the NFL and that will increase as the draft nears and will include predraft predictions and post draft analysis. Look here for a complete listing.