San Mateo, Calif.-based maker
of ruggedized devices.
Expected to be publicly announced Friday, the news that Sonim's newest ruggedized LTE handset will be tested by firefighters from the Phoenix Fire Department during their Super Bowl deployments is significant for those concerned with public-safety operations around large public venues, since it offers a new way for industry-standard applications to be shared in a potentially "extreme" environment. With support for both standard wireless-carrier LTE networks as well as the emerging "FirstNet" public safety LTE frequency, the Sonim XP7 also offers one potential path toward the long-desired goal of having communication devices that can allow different first-responder agencies to communicate with each other, or to more simply share information from different devices, applications or networks.
While the Phoenix test deployment of XP7 handsets will use AT&T LTE airwaves, a similar test process scheduled to take place in Vail and Beaver Creek at the Feb. 2-15 FIS World Ski Championships will use a demonstration version of the Band Class 14 LTE public safety broadband network, according to a release from FirstNet Colorado.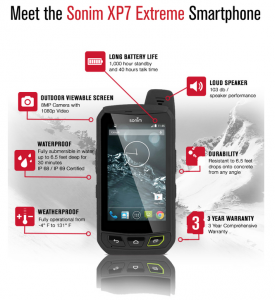 The Vail demonstration will make use of a Distributed Antenna System (DAS) that was built for the town of Vail by neutral host provider Crown Castle, as well as the Sonim phones, among other devices and services.

While it has the first-glance look of a regular smartphone, the Sonim XP7 has a host of ruggedized features including long battery life, an extra-loud speaker, protection against drops and weather, a touchscreen accessible with gloves, and a screen viewable in bright sunlight. In a recent interview with Sonim CEO Bob Plaschke, MSR got to see and hold Plashcke's XP7, a bulky device that certainly feels like it could stand up to extreme weather and rough handling. In addition to its obvious target market of first responders and other extreme-condition businesses, the XP7 is also being targeted at extreme athletes and outdoor-lifestyle customers, who should be able to purchase the device from major U.S. wireless carriers later this year.

In Phoenix, the Sonim phone will be compared to consumer-grade smartphones in a test using a custom-built firehouse alert app, according to Sonim. The Phoenix firefighters will also test the XP7's ability to act as a Wi-Fi hotspot, and will also test its compatibility and interoperability with other mobile devices.

The new XP7 ruggedized LTE smartphone from Sonim Technologies will get some on-the-scene testing by public safety professionals at both the Super Bowl as well as the upcoming World Ski Championships in Vail, Colo., according to Sonim, a