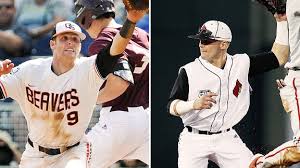 ESPN reports that the Regional and super Regional games that are the lead in to the College World Series had record viewership on its family of channels and that it expects to see strong viewership up to the conclusion that will take place in Omaha with prime-time telecasts of the best-of-three Finals on Monday, June 24, through Wednesday, June 26.
The network broadcast all of the games in both rounds in a series of 22 telecasts across three of its channels and averaged 404,000 viewers for a total of over 30,000,000 viewers by the end of the Super Regionals. Not surprising is that as the later rounds gained viewership, with the Super Regional games averaging 680,000 viewers. The games were broadcast on ESPN, ESPN2 and ESPNU.
Over the past few years ESPN has been increasing the number of regular season games that it has broadcast college baseball season includes more than 270 regular-season and conference tournament games and every NCAA Division I Baseball Championship contest for the first time. It expanded its coverage of the playoffs from six sites where games were played to all 16 regional sites.
There is no doubt that the increased coverage has led to increased viewership in my opinion. I suspect that it is also helped by the NCAA's mobile app that allows you to track the games, but which does not broadcast the games, so encouraging fans to tune in.
In the past I have not watched that much of the games that lead up to the College World Series and probably even fewer of the games of the actual series. I suspect that I have actually seen more Little League World Series games if push came to shove.
I imagine that in part this was because it just did not come across my sports radar that often and also simply the lack of access to games on TV. Hopefully ESPN will start making games available via mobile apps and online for fans that cannot get to a television to watch their favorite team.