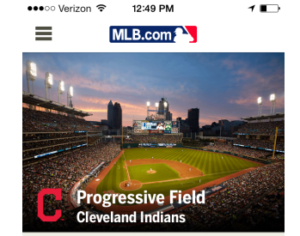 If you are lucky, loaded or devoted enough to have tickets to any of this year's World Series games, you will have more connectivity choices at Cleveland's Progressive Field than at Chicago's Wrigley Field. Thanks to a Verizon-built Wi-Fi and a separate DAS network that both came online in 2014, the home of the AL champion Indians should be ready for the bucket-list traffic pressures that come with hosting World Series games.
When the series moves to Chicago later this week, the Wrigley cell network will need to carry the full load, as renovations that are bringing new Wi-Fi and DAS systems to the Friendly Confines are not yet in place (and may not be finished until 2018, according to the Cubs).
However, the cellular networks at Wrigley Field seem to be working just fine — according to AT&T, during the three league championship series games in Chicago, fans who are AT&T customers used 2.6 terabytes of data on the AT&T networks at the ballpark. For the three games at Dodger Stadium, AT&T said it saw a total of 2.0 TB used on its networks. Fans at Progressive Field, meanwhile, used a total of 340 GB during games 1 and 2 of the ALCS on AT&T networks. Expect that number to grow this week.
For fans attending the games in Cleveland (Game 1 is Oct. 25 and Game 2 is Oct. 26; games 6 and 7, if necessary, will also be in Cleveland) there should be plenty of local cellular capacity thanks to the beefing-up brought by carriers ahead of this summer's Republican convention; we are also guessing that all the big wireless providers are doing their usual big-event preparations, which usually means portable cellular equipment for placement around the stadiums and in other fan areas. Anyone attending the games, send us a speedtest… so we can keep score on the networks!