So who needs a league-wide stadium networking strategy, anyway? Neither the NBA nor the NHL has such a beast, but it doesn't seem to be stopping the deployment of fan-facing Wi-Fi services that now reach almost every NBA arena and almost two-thirds of NHL venues.
The two biggest leagues for professional indoor sports in the U.S. may share a lack of a single, public league-wide networking strategy, but they also share a similarity that may make such strategies unattainable, even if they existed. Namely, because the venues that the teams play in are almost always used for multiple purposes – like concerts and other events – it's hard for one league or one team to exert control over what goes on inside.
But even though there's no single-item menu for bringing wireless technology to stadiums, that doesn't mean the leagues aren't helping teams find the best ways forward. According to Michael Gliedman, senior vice president and chief information officer for the NBA, he and his IT experts are constantly meeting with all the teams in the league, sharing contract information and best-practices to ensure that NBA arenas are "as wireless as they can be."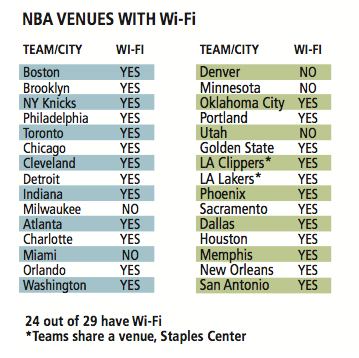 And in a quick interview with the NHL's boss, the same impression came across: that the leagues may not be dictators, but they are doing lots of behind-the-scenes work to ensure the fan experience doesn't get disconnected.
The "we're just a tenant" point was made to us directly by NHL commissioner Gary Bettman, during his live visit to the Coors Light Stadium Series game between the San Jose Sharks and the Los Angeles Kings at Levi's Stadium in February. In a great non-answer answer, when we asked Bettman directly if there was a league- wide plan to bring Wi-Fi to all stadiums, he answered, "All our arenas are being upgraded [from a technology standpoint]. From bigger video boards to Wi-Fi we know our fans want what they want, when they want it."
In other words: Gary gets it, but you're not going to get him to issue any kind of Roger Goodell edict for league-wide Wi-Fi that still hasn't happened, three years after it was said. He's too smart to pin himself down like that. But with 19 out of its 30 arenas already having free fan-facing Wi-Fi, and more on the way, Bettman and the NHL are making pretty good progress when you consider that the league doesn't have as much income as the other large U.S. pro sports.
NBA Wi-Fi getting more publicity
Editor's note: This analysis is part of our new Stadium Tech Report HOOPS AND HOCKEY ISSUE, available for free download. In addition to this story it contains additional profiles and team-by-team tech capsules for all 30 NBA teams. Download your copy today!
On the hoops side, in a recent phone interview with MSR Gliedman said that while the NBA "has never published a 'you have to do this' menu," he and his office are engaged with teams on multiple levels, from reviewing carrier contracts to offering best-practices advice on new technology and how-to on deployments. But like the NHL, since many of its teams play in venues with multiple tenants, the final decisions on tech deployments like Wi-Fi networks rests with the teams themselves.
With 24 out of the NBA's 29 venues already wired for Wi-Fi, the need for an overarching "strategy" for wireless deployment may already be a moot point. On the promotion side, things have improved a bit from last year, when our look at NBA stadium Wi-Fi found that while many stadiums had Wi-Fi, only a few had any information about it on their team websites.
As the calendar changed to 2015, almost half of the teams with Wi-Fi now have some kind of information about the service on their team web pages, although only six teams (representing five facilities) have a note about Wi-Fi in the all-encompassing "A-Z guides" that are probably the first place a lot of fans would look for such info. While the lack of online information about Wi-Fi in NBA stadiums is still puzzling, we've also come to the conclusion that it may not matter that much if teams have in-arena promotions for the Wi-Fi services. One message on the arena big screen, for example, is probably a lot more effective at getting fans connected than any web page item.
Upside and downside of the scattered approach
While it's easy to point to the hundreds of millions in revenue dollars generated by Major League Baseball's unified digital and stadium-networking approach as a barometer of success, there may be a lot of benefit in letting individual teams chart their own paths when it comes to in-building networks and the digital access that follows. Even the limited look at the league-wide deployments found in our most recent profiles sees four completely different ways of reaching toward the same goal, of using wireless networks to build an improved fan experience that can also be tapped for more granular marketing data.
Since no single technical or software platform has yet established dominance in the stadium Wi-Fi, DAS or stadium app marketplaces, the competition right now can only benefit stadium owners and operators, since it increases the choices available while keeping pricing down. The flip side of that equation is that venue owners and operators need to arm themselves with either better education or a qualified partner to help sift through the choices to find one that makes fiscal sense, as well as the capability to handle the still-growing demand for wireless data bandwidth, which as of yet shows no signs of plateauing.
With any luck, the information side is one place where we can help, with our stadium profiles and other supplemental reports like our annual State of the Stadium survey, which once again this year will be delivered at the SEAT Conference, this year in July right here in San Francisco. In addition to our quarterly reports we have some other projects in the works, including a focused report on beaconing technology, which is rapidly finding converts for its ability to hyper-locate digitally connected fans. Stay tuned to the MSR website and sign up for our email newsletter to make sure you don't miss anything. And if you have a story to share, by all means give us a holler so that others can learn from your successes, as well as from your lessons learned along the way.