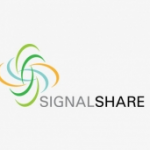 SignalShare announced today its new LiveFi nGage product suite, a system that combines content, analytics and advertising links to give venue owners and operators a turnkey method to improve fan engagement and perhaps increase revenue opportunities for large-venue Wi-Fi networks.
The product launch coincides with a redesign of the company's website in what company leaders are calling a bit of a public relaunch, one that includes tweaks like a new logo and subtle changes to main product naming as well as streamlining explanations of what exactly the mobile mass-audience engagement specialist SignalShare does. The Raleigh, N.C.-based SignalShare is also set to significantly increase its operational size soon, as the 20-person privately held company is in the final stages of a "reverse IPO," going public by acquiring another company that is already trading on the public markets.
Though small, SignalShare has racked up an impressive list of customers for its high-capacity Wi-Fi network design, deployment and management systems and services. Professional teams including the NFL's Jacksonville Jaguars and the NBA's Indiana Pacers, Sacramento Kings and Houston Rockets all use SignalShare in some capacity for their Wi-Fi network operations, as does the U.S. Open tennis tournament, as well as major entertainment acts like Bon Jovi. The new nGage suite is a top-layer addition to the company's existing proprietary LiveFi audience engagement platform, which according to SignalShare "leverages real-time analytics and dynamic messaging to deliver location-aware customized content – including offers, discounts and call-to-actions – to attendees' mobile devices during events."
In a phone interview this week prior to the announcement, SignalShare founder and chief technology officer Joe Costanzo said that in its operation of stadium and other large-venue networks, SignalShare often found that attendees were using the local networks far more for independent apps like Twitter and Facebook, and in many cases were basically ignoring the team or stadium app.
"The reality in a lot of places is that the mobile app [for that venue] is floating to the bottom of the pile," Costanzo said. To help remedy that situation, SignalShare came up with LiveFi nGage, which has as its linchpin an HTML5-based portal site that fans are directed to after logging in to the local network.
Increasing ways to monetize the network
In a demonstration prior to the announcement, the nGage "Fan Feed" component appeared on the device like any other smartphone app, with graphic and text links that could be vertically scrolled through. Through its ability to combine event content, fan social media contributions and advertisements or promotional links, Costanzo said nGage Fan Feed could act as a funnel directing fans to a team or stadium app or website, while also providing up-front engagement opportunities that could go a long way toward helping venues monetize their Wi-Fi network investments.
The HTML5 construction of nGage Fan Feed, Costanzo said, makes it easier for venue owners to change the content feed quickly — an important factor for venues that may host a lot of different events, such as basketball arenas that also have hockey games or concerts. The nGage suite also includes an analytics engine to capture usage patterns across the Wi-Fi network, a feature rapidly being seen as a necessary component for any large venue networking operation.
While the splash-page feel of the Fan Feed could be seen as competition for an arena or team's own app, Costanzo said that the low engagement rates for stadium or team apps seem to be calling out for some kind of help to keep fans from just using outside apps.
"We're just reacting to the data we're seeing," Costanzo said. "Our goal is to help venues close the circle of engagement, and evolve how you get fans to engage with the event."
Owning the network
According to Costanzo, SignalShare makes money by being a sort of neutral third-party host for venue Wi-Fi networks, providing the Wi-Fi as a managed service instead of a capital expense. In a recent deal at the University of Maryland where SignalShare partnered with Wi-Fi gear and analytics provider Extreme Networks, Costanzo said SignalShare "owns the network," and will work to bring in sponsors to share revenue with the school. The LiveFi nGage suite, Constanzo said, will help both SignalShare and the venue owner find a faster ROI.
"We've taken the concept of a managed service approach, which is an off-the-books approach for teams and venues," Costanzo said. Trying to justify the ROI for a stadium Wi-Fi network, he noted, "can get pretty hefty when [the venue] only has six events a year."
By using nGage and its Fan Feed component, Costanzo said operators can "make sure the sponsor content gets elevated, but that fans are not just slammed by ads, ads, ads." Costanzo said the LiveFi nGage platform can also be used to push synchronized messaging to other stadium displays, like big screens or LED ribbons.
Reverse merger takes SignalShare public
On the business side, SignalShare is near completion of a planned "reverse merger" with a company called Roomlinx, Inc., a Broomfield, Colo.-based provider of interactive TV applications for the hospitality industry. Roomlinx, which trades on the "pink sheets" over-the-counter market, will own (along with its investors) 14 percent of the new company, which will be called SignalShare Inc. SignalShare will own the balance, and will give $1 million in cash to Roomlinx, according to a news release from last spring that announced the deal.