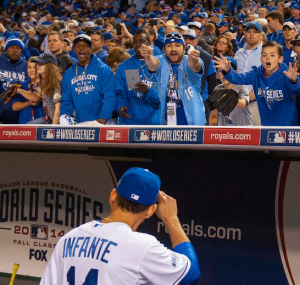 The rumored Wi-Fi network at Kansas City's Kauffman Stadium is now a confirmed entity, according to Joe Inzerillo, executive vice president and CTO for MLB.com. In a phone call Thursday, Inzerillo said the Royals' new network is part of a league-wide effort to bring Wi-Fi to all MLB parks, a task he thinks may take another year or two to complete.
As MLB.com has stated publicly before — but maybe not spelled out in so much detail — it has a program under which Major League Baseball teams can "opt in" to have MLB.com and the nation's top four wireless carriers participate in the funding and building of both Wi-Fi and DAS networks in MLB stadiums. Though he wouldn't divulge the specific financial commitments for specific deals, Inzerillo said that under the program "everyone has some skin in the game," though he did allow that the league and the carriers, not the teams, foot the bulk of the bills.
Still, Inzerillo stressed that individual teams play a huge role in the Wi-Fi deployments, from design to deployment to management on site. "It's not just like we show up and we're the Wi-Fi fairies," Inzerillo said. "This program wouldn't be possible without the teams and the work they do."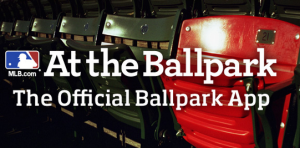 Given MLB's synchronized digital strategy of having the same app — and only the same app — available for fans in each ballpark, Inzerillo said that having high-quality cellular and Wi-Fi networks in each stadium was a key necessity, especially to make MLB app functions like seat upgrades and concession purchases work.
"You need to have the right [network] plumbing in place or none of the other stuff matters," Inzerillo said.
Kauffman Stadium's network, Inzerillo said, was just one of about a dozen MLB Wi-Fi projects that got underway this year. That it was finished in time for postseason play was just luck, and not some last-minute installation due to the Royals' on-field successes. "It was just a fortuitous thing that it was ready," said Inzerillo, who said that construction of Wi-Fi at Kauffman had been ongoing for the past 5 to 6 months.
Though the network wasn't promoted on the team's website or anywhere else on the Internet, Inzerillo said the Royals were promoting it at the stadium. Even without a lot of advertising, fans found the network, he said, claiming "tens of thousands" of Wi-Fi connections during the Royals' postseason run. However, Inzerillo also said some extra cellular trucks were brought in by some of the carriers for the Royals playoff games because the DAS at Kauffman isn't quite finished yet.
Inzerillo said that anywhere from 22 to 26 teams will eventually end up using some combination of league-provided Wi-Fi and/or DAS. The league's goal of having every stadium fully wired should be nearly complete by opening day of 2015, he said, with a more likely "final" goal of complete coverage reached sometime in 2016. In 2014, Mobile Sports Report research showed that 10 of the 30 MLB stadiums didn't have fan-facing Wi-Fi; some of those teams (like Kansas City) will be getting MLB networks, while some other program participants are upgrading existing systems, Inzerillo said.
Under the MLB network deal, the DAS in each stadium will be a neutral-host deployment hosted by one of the four major U.S. cellular carriers — AT&T, Verizon Wireless, Sprint and T-Mobile — depending on things like regional/historical market share and existing contracts, Inzerillo said. While the carriers will operate the MLB DAS deployments, the Wi-Fi networks will be deployed, run and monitored by MLB, either from its New York City or San Francisco network operation centers, Inzerillo said. Wi-Fi gear will come mainly from Cisco, though Inzerillo said there is also a small percentage of Meru Networks gear based on teams that had previously installed Meru equipment.
Though Inzerillo said MLB may make some overall announcement once the league-wide project is completed, he didn't necessarily think that having working Wi-Fi and DAS in stadiums was such a big deal.
"It's kind of a weird thing to think about bragging about," said Inzerillo, who compared Wi-Fi and DAS to plumbing as a basic stadium necessity, not an amenity. Having high quality networks, he said, "are table stakes for a modern facility."
UPDATE: The Kansas City Royals are now officially promoting the Wi-Fi, with some usage claims:
Almost 100K fans have utilized it during our recent testing and tuning, but now it's official: free RoyalsWiFi available at #TheK!

— Kansas City Royals (@Royals) October 28, 2014