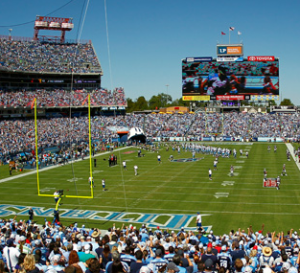 The Tennessee Titans picked Extreme Networks to provide a Wi-Fi deployment at LP Field in Nashville, Tenn., becoming the third NFL team to choose Extreme gear for wireless connectivity.
Along with Wi-Fi integrator PCM, Extreme said in a press release Monday that it will bring both its Wi-Fi networking gear as well as its analytics software to the Titans, to provide a free-for-fans wireless network to all parts of the 69,143-seat LP Field. Previously, Extreme had built Wi-Fi networks for the New England Patriots and the Philadelphia Eagles.
Extreme may have a leg up when it comes to securing more NFL Wi-Fi deals, thanks to a deal announced earlier this year under which Extreme is the league's "official provider" of Wi-Fi analytics. Though the deal doesn't automatically provide Extreme with any signed contracts, in the follow-me world of sports technology deployments one successful implementation plus an endorsement from the league means that at the very least Extreme is on most short lists when NFL teams are seeking Wi-Fi providers. The company is also known for implementing the Wi-Fi coaches idea, where network-knowledgeable employees roam the stands at games to help fans connect to the Wi-Fi.
"Our fans are our number one priority, so being able to provide an enhanced experience for them is a tremendous opportunity," said Don MacLachlan, executive vice president of administration and facilities for the Titans, in a prepared statement. "The partnership with Extreme will not only positively change the in-game atmosphere but will also allow us to garner deeper insights into how fans interact with their devices while they are in the stadium. Extreme's Wi-Fi and analytics solution is unparalleled and we are confident we will receive encouraging feedback."
According to Extreme the network is scheduled to be live in time for the start of the season. The Titans' first home game of the regular season this year is Sept. 14 against the Dallas Cowboys.