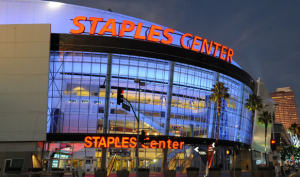 During the 2012 NHL playoffs, no other team could stop the Los Angeles Kings. But as the Kings' fans were celebrating their team's run to the Stanley Cup, their cheers from Staples Center stayed inside the walls. Without a Wi-Fi network or good cellular connectivity in the venue, fans there were shut off from sharing their joy with the outside world — a frustration they let team officials know about, in no uncertain terms.
"Not having Wi-Fi was really impacting the fan experience, especially during that championship run," said Denise Taylor, chief information officer for arena owner AEG. "Our fans went through a lot of pain. And we heard them."
Fast-forward to the 2013 playoffs, and while the LA Kings weren't as successful on the ice, at least the fans were able to stay fully connected while at the games thanks to a new HD Wi-Fi network and a neutral DAS deployment at Staples Center. With some impressive help from infrastructure partners Cisco and Verizon, AEG was able to get Wi-Fi and a full DAS deployment installed in both Staples and the adjoining LA Live center in just two and a half months, despite nearly constant activity in the venue that never sleeps.
With its network now in place, AEG and Staples are keeping all the Los Angeles teams' fans connected while busily looking for more opportunities to not only further enrich the fan experience, but to also add to the teams' and facilities' bottom lines. And AEG is already learning lessons about how to better deploy Wi-Fi at its arenas and venues worldwide, including the knowledge that fan network use is showing no signs of slowing down.
Building a network in a building that never sleeps
According to Taylor, deciding that Staples Center needed a Wi-Fi network was the easy part "It was a must-have," she said. "We knew had to get it in immediately."
The hard part? Building that network into a building that hosts not one but two NBA teams, the Los Angeles Lakers and the Los Angeles Clippers, as well as the NHL's Los Angeles Kings and the WNBA's Los Angeles Sparks, plus is host to numerous concerts special events and the Grammy Awards. When the business plan was put in place in late 2012 to deploy the networks, Taylor said there were only four "dark" nights during the two and a half months of construction.
"That's when it pays to have really great partners," she said. Though there was heavy lifting necessary to retrofit the 20,000-seat venue, including opening up walls to install conduit and access points, Taylor said AEG's partners worked around the busy Staples event schedule, with most work taking place between the hours of 2 a.m. and 2 p.m. When the dust settled, Cisco had installed a total of 463 APs in both Staples Center and L.A. Live, meaning that fans could stay connected inside the stadium and outside at the adjoining cluster of stores, restaurants, movie theaters and other facilities.
Almost instantly, fans were talking about events, sharing pictures and messages on social media networks. "It was a great feeling to see people talking about the games," Taylor said. "Our partners really delivered."
Future Advice: Don't make any small network plans
LA Kings fans, who previously couldn't even use the team's app while at Staples, are now the biggest network users. According to Taylor, an average of 3,000 fans are connected to Wi-Fi during LA Kings games at Staples Center, just ahead of the facility's average NBA game network user number of 2,410. Even at this early stage of the game, Taylor is seeing that her team's predictions for network usage might have been low.
"We had originally designed [the network] for use by 25 to 30 percent of a capacity crowd," Taylor said. But during a recent concert run of four sold-out shows by the band One Direction, Taylor said 35 percent of attendees were using the network during those shows.
"Use of mobile phones in venues is just going to grow and grow," she predicted. "We're seeing more and more penetration every day."
And while pure connectivity is great, Taylor and AEG are now moving forward to enhance the fan experience in multiple ways, including implementation of mobile ticketing apps and apps for ordering food and concessions from your phone.
"We're in the early stages, but all of that — concessions, ticketing, team apps — is in the works," Taylor said. "Having a real HD Wi-Fi network creates so many business opportunities, for teams, venues and owner groups. There's the whole area of captive analytics, which has tremendous potential upside. It's just a question of how you monetize this big digital asset you have in your hands."
More lessons: Don't skimp on 2.4 GHz, and pick good partners
When it comes to Wi-Fi technology, the future is devices that work in the 5 GHz unlicensed spectrum band, which has tons of available bandwidth. Many newer devices, like Apple's iPhone 5 series, include radios for connecting to 5 GHz Wi-Fi. But Taylor said venue owners and operators need to make sure they don't skimp on building in support for the 2.4 GHz band, where a large legacy of devices still operate.
"Designers may prefer the 5 GHz range but if you only support that band the truth is you would eliminate a good portion of consumers," Taylor said. "There are also back of house management applications that still require 2.4 GHz support. So you still have to build for the lowest common denominator of devices to make sure you are engaging every fan who comes in, even those with older phones."
And since most networks built now are going to be put into arenas that already exist — meaning retrofits — there will probably be a Staples Center-like challenge of doing deployment work around events. That means, Taylor said, that owners and operators need to find partners who are "willing to work hours that aren't always 8 to 5."
As AEG develops overall plans for site operations at its numerous international locations, Taylor said that wireless networks are no longer seen as a luxury.
"The two most important things are having HD Wi-Fi and a robust DAS," she said. "You give the fan what they want, and take advantage of all the opportunities to monetize the network. It's just not an option anymore."