Wi-Fi gear supplier Ruckus Wireless has racked up another stadium win, this time as the technology behind a new Wi-Fi network at Time Warner Cable Arena in Charlotte, N.C., home of the NBA's Charlotte Bobcats.
The new network was live just in time to supply attendees at last week's Democratic convention with a signal much stronger than cellular. According to a report by John Cox in Network World the new network uses Ruckus's specially designed stadium antennas and uses the better-performing 802.11n Wi-Fi protocol. Doug Sabo, product manager for micronetworks at Time-Warner Cable, said the cable giant (which supplies Internet and video back-end services) is talking with "many of the venues in our service area" to gauge their needs or desires to install or upgrade their stadium Wi-Fi operations.
Patriots Expand Network, Pick Local Firm Enterasys for Wi-Fi Gear
Fans of the New England Patriots can now enjoy Wi-Fi access throughout Gillette Stadium, thanks to a new network put in place by the team and Enterasys Networks, an Andover, Mass., supplier of networking gear. This Boston Herald report details the new network, which will provide free Wi-Fi service to all fans at the Pats' NFL games.
Previously, wireless gear supplier Xirrus had helped the Patriots bring Wi-Fi services to Gillette Stadium's extensive luxury suites and clubs. No word yet on whether the Xirrus installation will remain, or whether the Enterasys deal will usher Xirrus out.
Tennessee Vols get DAS at Neyland Stadium
One of the most orange places on earth, the University of Tennessee's Neyland Stadium, has a new Distributed Antenna System (DAS) installation in place to help improve cellular coverage. Raleigh, N.C.-based Longent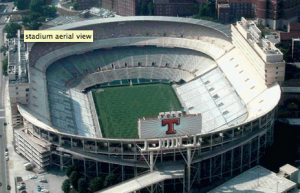 is behind the installation, using DAS gear from Solid Technologies. Verizon Wireless will be the first cellular provider to use the DAS system, which improves cellular coverage by placing small antennas throughout the facility.