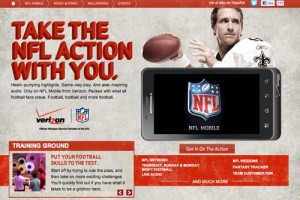 Last year when Verizon was heavily promoting its new 4G LTE network, football fans who bought new smartphones that used the network got a great benefit: Free access to Verizon's NFL Moble app and its limited schedule of live coverage, including Thursday night, Sunday night and Monday night games.
But without any fanfare — and without any visible information, until you load the app and try to watch a game — Verizon is now charging $5 per month to watch live games, according to the splash screen that greeted me when I tried to watch some preseason action Saturday night while my daughter was monopolizing the TV in the living room.
Though Verizon paid a bundle for rights to mobile access to NFL games, I will bet anyone a pint that it's a contract that won't be renewed whenever it comes due. From what we have seen so far it's pretty obvious that the NFL is moving in a baseball direction, with its new watch online packages looking a lot like the MLB.com packages that make baseball hundreds of millions each year.
Though you will need a Verizon contract to watch games on a mobile/cellular device this season, we expect that by 2013 there will be a much wider range of options to watch NFL games online or via cellular devices — and they will likely cost a lot more than $5 a month, so we're not going to bellyache too much here (though reviewers on the App Storses are already po'd). But it would be nice if Verizon was more honest and put the $5 per month charge somewhere folks could see it. The app may be free to download, but don't be fooled. Your days of free NFL on mobile devices is over.