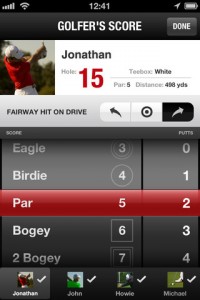 The ever-elusive golfing social media market has a new entrant, from one of sport's biggest names: Nike today unveiled its NG 360 app, which is designed to be a one-stop shop for golfers who want to improve their game, their golf fitness, and to connect with like-minded friends.
Available only for the iPhone (Nike golf's Twitter stream said an Android version is due soon) the NG 360 app (for Nike Golf 360) is, according to Nike, a place to "Track your rounds, dig deep on stats, get feedback on your swing from pros and your friends, and access golf-specific workouts. NG360° is a clubhouse, practice tee, gym and pro shop — all in one, and always with you." The app is free for download from the iTunes app store.
Though many have tried to tap the millions-strong market of golfers who clearly love to track, talk about and most importantly, buy things to improve their games, nobody yet has come up with a Facebook-type winner where everyone wants to be. Some of that, no doubt, is due to the fact that for many people, golf is an escape from work, which now means their phone. Sure it sounds great to have a cool golfing app right there in your pocket but it's so close to email that it may get ignored by golfers who are instead enjoying the sunshine and a cold beverage.
Nike also seems to have a kind of badge/reward system in place to honor golfers who are getting better, but not having played with the app, I wonder if there is too much going on here. I for one would kill to have just a simple place to record scores, and perhaps to access them via the phone from the cloud whenever I am out on a course. It's unclear how the NG 360 performs at simple things. Time and some user feedback will likely tell, quickly.
Where Nike may have an edge over past and current efforts to tap the golfer-social-media-stats market (like Callaway's new gizmo) is in its innovative twists, one to let you record your swing in video and another to allow professional instructors to help you improve your game. Like many things, NG 360 sounds great as an idea. Now let's see if Nike's marketing can find success in a field where many have failed.