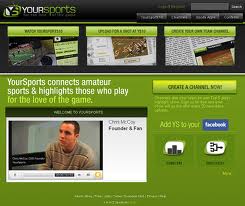 YourSports: The Facebook for sports?
A new online sports publication is coming into being called YourSports and it is a customizable sports page that is designed to enable fans to get the sports news that they want, including local sports that might be missed by the larger rivals.
While currently in beta it is open to all for the first time to take a look, it claims that it will fill in sports that is not currently handled by its rivals such as ESPN, BleacherReport and others by using social media to help fill in what is not available on broadcast sports while also providing news feeds on your favorite teams.

Amazon gets FCC approval for 4G Kindle
While Amazon announced its 4G Kindle Fire HD tablet last week it was only this month that the company obtained permission from the US Federal Communications Commission to actual sell the high end Kindle Fire HD that has the ability to connect to high speed 4G cellular networks.
The FCC approval is required for any device that has wireless communications to ensure that it does not create interference with other wireless devices. The product has been on preorder and is expected to ship Nov. 20.
Microsoft accuses Motorola of map stealing
As if Apple's map problems are not enough now Microsoft is claiming that the Android phones from Motorola that use Google Maps, infringe on a mapping patent that Microsoft owns. The patent in question covers a method of obtaining the map from one database, resource information such as Starbucks locations from a second database, and overlaying the two sets of data.
The lawsuit is just one of several that Microsoft has filed in Germany regarding patent issues with the Google-owned Motorola Mobility as Microsoft increases the pressure to get Android phone makers to pay it royalties, according to Computerworld.
Time to vote for the Hank Aaron award
While League MVP, Cy Young and other awards seem to always dominate the off season, the Hank Aaron award, for each league's best all around offensive player, is one award that fans can have an impact in by voting.
The fans, along with an all-star panel that includes Aaron, ony Gwynn, Paul Molitor, Joe Morgan, and Robin Yount will vote on which of a slate of players is the best in each league. Voting closes Oct 16.
Lenovo now top PC maker
Market research firm Gartner has found that Hewlett-Packard has been unseated as top PC seller worldwide by Lenovo. HP, the top gun in this space for the past six years owned a 15.5% share of the market while Lenovo grew to 15.7% of the market.
This comes at a time when overall PC sales are declining. Gartner reported that in the third quarter of this year sales fell 8%, but it looks like some of that decline is simply buyers waiting for the Windows 8 release later this month. Dell, Acer and Asus make up the top 5 PC makers.
HTC departs US tablet market
While there is a growing rumble about a host of new tablets expected to be announced in conjunction with the Windows 8 rollout by Microsoft later this month, HTC is jumping off the bandwagon just as others are jumping onto it.
The company has announced that it is dropping its HTC Flyer and other tablet products from the US market. It said that the products were at the end of their lifecycle and the company has said it will watch the tablet space but does not want to have an offering that is a "me too" offering.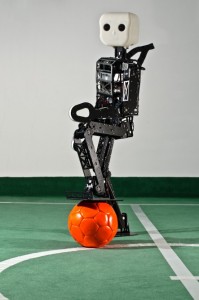 RoboCup Soccer gets champion robot
Don't know what RoboCup Soccer is? Well join the club but an interesting piece in Gizmag talks about the state of modern robotics and how a league of five teams competed in the league that uses what it calls TeenSize robots, ones that are three to four feet tall.
They use an open source platform and cost roughly $26,000 apiece. The leagues goal is to develop a team that can beat the human champions, by 2050 that is.