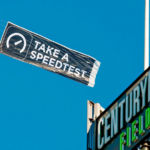 The Seattle Seahawks saw almost every metric associated with the Wi-Fi network at CenturyLink Field just about double from the 2015-16 to the 2016-17 NFL regular season, according to statistics provided by the team.
Chip Suttles, vice president of technology for the Seahawks, sent us over some excellent season-long charts of Wi-Fi activity, including unique and concurrent-user peaks, top throughput, and a couple of comparison charts mapping this most recent season's activity compared to that a year before.
With a capacity crowd attendance total of 69,000, the always sold-out CenturyLink saw a take rate nearing 50 percent for most of the season, with a top unique-user number of 35,808 for a Nov. 7 31-25 win over the Buffalo Bills. Interestingly, the biggest day for total data usage wasn't the Bills game (3.259 terabytes) but a 26-15 win over the Philadelphia Eagles on Nov. 20, when the Wi-Fi network saw 3.526 TB of data used. If you look at the comparitive graphs, both peak usage and total usage numbers pretty much doubled down on what was seen the year before.
According to Suttles, there wasn't much in the way of upgrades to the Extreme Networks-based network before this past season — just some firmware and software updates, and "about a half-dozen" new APs to support additional seating added in the south end zone area. "Overall, I think it [the data increases] is more to do with familiarity," Suttles said. Thanks to Chip and the Seahawks for sharing the numbers!