Home to the NBA's Nuggets and the NHL's Avalanche, the arena — which seats 19,155 for hoops and 18,007 for hockey — hosts more than 200 events per year, according to the stadium home page. Now, sports fans and attendees at concerts and other events will be able to connect to the Internet via the 325 Avaya Wi-Fi APs installed over the past year, a number confirmed by Rick Schoenhals, vice president for information and technology for Kroenke Sports & Entertainment (KSE).
According to Schoenhals, the Wi-Fi network inside the Pepsi Center has been fully operational since late this spring, the end of a ramp-up period designed to ensure full operation by the start of the upcoming basketball and hockey seasons. Though no statistics for fan use from the past season are available, the network is designed to also provide connectivity for in-house operations including video feeds, security operations, concessions and also for sideline team access, according to a press release.
Avaya said the network deployment at the Pepsi Center will also include a "fan engagement wall," a live social-media centerpiece that displays fan social media posts in real time for arena attendees to view on digital displays. Avaya has a similar fan engagement wall at its eponymous Avaya Stadium in San Jose, Calif., home to major league soccer's Earthquakes and home of this year's MLS All-Star game later this month. In addition to the Pepsi Center and Avaya Stadium, Avaya also is the gear used in the Wi-Fi network at the Montreal Canadiens' Bell Centre.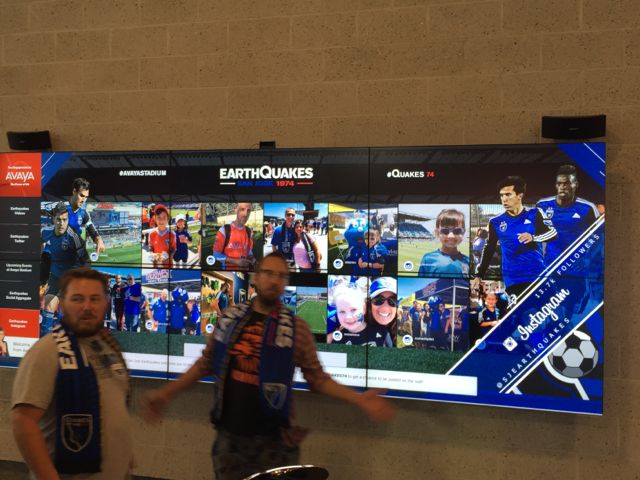 Fan wall at Avaya Stadium in San Jose. Credit: Paul Kapustka, MSR

Though it's been operating inside the building since earlier this year, the Avaya Wi-Fi network in Denver's Pepsi Center is official today, with a public announcement from stadium owners Kroenke Sports & Entertainment about the deployment.