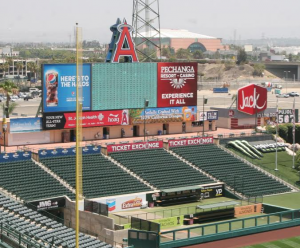 In addition to a packed house and a top-performing team, the Angel Stadium of Anaheim will have a fully functional Wi-Fi network and a full-strength DAS on hand when the American League divisional playoffs begin there Thursday.
Just as the Los Angeles Angels oF Anaheim built their American League West division-winning record all summer, networking infrastructure provider 5 Bars brought the connectivity in the team's stadium to the top this season as well, completing the neutral-host DAS in June and finishing the Wi-Fi network in time for the last regular-season homestand, according to the company. As the Angels get set to host the Kansas City Royals on Oct. 2, the 400-plus antenna DAS and the 300-plus Wi-Fi access point network should be able to handle the expected crush of selfies, Vines and other fan-based wireless communications that will course the airwaves during game time at the 45,050-seat facility.
While we hope there's still time this season to get down to Anaheim for a live visit and test, for now we'll let some quotes from the prepared press release let you know how the team feels about having better-than-average connectivity for its fans:
"We want to bring the best possible Major League Baseball experience to fans attending our games, and we're confident this new, high-performance Wi-Fi network will fully meet those expectations when our fans come to Angel Stadium," said John Carpino, President of the Angels, in a prepared statement.
Though the 5 Bars name is a new one in the stadium technology deployment marketplace (earlier this year the company was calling itself "5 Bars Inside," but the inside is now dropped from the name), its leadership team claims "more than two decades of practical experience in developing and managing DAS networks for wireless service providers," according to the press release announcing the Angel Stadium networks. For its neutral-host DAS 5 Bars is using the Teko DAS platform of products from JMA Wireless; according to 5 Bars both AT&T and Verizon will be active on the DAS on Oct. 2. On the Wi-Fi side, 5 Bars used gear from Wi-Fi supplier Ruckus Wireless. The Wi-Fi network will be free to all fans at the stadium.
UPDATE: The folks at Ruckus have an well detailed press release about the Angel Stadium deployment that is worth reading through.