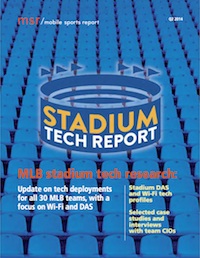 Is there any doubt that when it comes to the digital fan experience, Major League Baseball is in first place? That's the way we see things, and research we did for our second quarterly long-form STADIUM TECH REPORT issue bears that opinion out. Thanks to a far-sighted strategy that kept league control over all Internet content, and some innovative, forward-thinking technology leaders at several MLB teams, baseball is ahead of all other U.S. sports when it comes to delivering a consistent, enriched fan experience through technology. But will the lead last?
You can find some of the answers to that question in the second issue in our STADIUM TECH REPORT series which you can download for free right here. If you've already registered with us, all you need is a username and password; if you're new to MSR, we just need an email address and title and you're on your way to the best long-form compilation of research and analysis, as well as in-depth interviews with industry experts in the stadium technology marketplace. We'd also like to thank our Stadium Tech Report sponsors, which for this issue inlcude Crown Castle, SOLiD, Corning, ExteNet Systems and TE Connectivity — without their support, we couldn't make all this excellent content free for readers.
MLB tech profiles, interview with AT&T's John Donovan
What's in our issue #2 of STR? Glad you asked! Inside the report our editorial coverage includes:
— MLB stadium tech research: This editorial research provides a technology update on stadiums used by all 30 MLB teams, gauging the level of deployment of Wi-Fi, DAS and beaconing technologies.
— MLB tech deployment profiles: These mini-case studies will take an in-depth look at technology deployments at MLB facilities including AT&T Park in San Francisco, Target Field in Minneapolis, and Miami's Marlins Park. This issue also includes an in-depth interview with AT&T senior executive vice president John Donovan, the man behind AT&T's successful DAS deployment strategy.
— MSR exclusive stadium tech analysis: The report also includes MLB stadium tech analysis from MSR editor in chief Paul Kapustka, as well as a bonus mini-case study of DAS deployment at historic Churchill Downs, home of the Kentucky Derby.
MLB stadiums: Wi-Fi and DAS deployment is strong
Since last year, 8 more MLB teams have added fan-facing Wi-Fi to their ballparks, bringing the league total to a respectable 67 percent, with 20 out of 30 stadiums with Wi-Fi. On the distributed antenna system (DAS) front things are even better, with 25 out of 30 parks having enhanced cellular connectivity thanks to a DAS (our report currently erroneously shows that the Washington Nationals don't have a DAS — we learned late this weekend that they do, so DAS is doing even better than we thought). Though the adoption rate is lower than that found in the NBA (where 26 of 29 stadiums have fan-facing Wi-Fi), baseball as a league does a much better visible job of promoting the service, which is more impressive when you consider that deploying Wi-Fi in an open-air arena is a considerably tougher task than in a building with a ceiling, like an NBA stadium.
Perhaps it's no surprise that the National League West Division leads the pack in MLB connectivity, with all 5 teams having both Wi-Fi and DAS deployments in their park. The adoption rate in that division may have something to do with other teams following what is perhaps the overall connected-stadium leader in any sport, AT&T Park in San Francisco. The first with Wi-Fi (since 2004), AT&T Park continues to lead in innovation and experimentation, as witnessed by their embrace of new tricks like under-the-seat Wi-Fi APs and the new iBeacon technology, which is being tested in 20 MLB parks this season.
All of this is explained in greater detail in our STADIUM TECH REPORT for Q2 2014 — so download your free copy today!