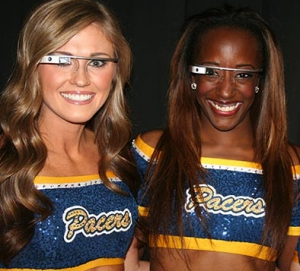 Editor's note: The following post is by Jon Fisher, CEO of CrowdOptic, the San Francisco company whose technology is helping bring Google Glass views to NBA arenas. While there's been a lot of talk about how this is happening Fisher explains the deployment in some more detail here. The feature is being used at Bankers Life Fieldhouse for today's opening game in the Eastern Conference Finals.
By Jon Fisher, CrowdOptic
The Pacers deployed Google Glass in real time powered by CrowdOptic in every home game since it first launched against the Miami Heat on March 26, and are deploying against Miami Sunday and through the playoffs.
The solution is a package of 11 Glass devices positioned at court level —
worn by a variety of Pacers employees
and fans (including celebrities) to contribute immersive points of view of the action. These views are seen on the arena's Jumbotron and have included scenes like the referees deliberating from the point of view of the game announcer right in front of them. The Pacers run this solution completely on their own logistically; they hand out Glass units and the CrowdOptic software runs on a server and laptops with dashboards in the AV room and truck.
Closer images than anything else
With the Google Glass experience, fans see faces and lips move from a more immersive perspective than a traditional broadcast camera allows. And Glass isn't simply a GoPro-like camera in these situations (Glass is a computer) as the Pacers can text through the Glass interface telling the Glass wearers when they're broadcasting live and/or to look in a different direction if necessary to capture a desired angle using a GUI / radar interface. The Glass wearers can dynamically change their broadcasting quality (bit rate) to conserve battery life. And the Pacers just announced the capability that anyone wearing Glass in-stadium will be able to zoom into these POVs on demand and even the POVs of the Pacers' own stadium cameras.
This is possible using CrowdOptic technology (including U.S. Patent 8,527,340) to understand when and where the Glass units are aimed in common so inferior views of the action can be discarded for quality thereby translating the noise from the 11 Glass units into manageable broadcast streams algorithmically. Glass units aimed in the same direction can also be merged using the same technology, enabling one wearer to inherit the view of another authorized wearer.
It's this zoom capability that the Pacers announced yesterday that we think completely changes the game. Finally, CrowdOptic is the only company currently capable of broadcasting from multiple Glass units in high density simply because we were focusing on this difficult problem early. We convert the Glass Wi-Fi signal from 2.4 to 5.0 GHz frequencies, we have optimized our code for large live events and are integrated with Wi-Fi deployers SignalShare and soon Extreme Networks, and we even have a WiMAX solution.
Jon Fisher, CEO of CrowdOptic, is a Silicon Valley entrepreneur, inventor, author and economic analyst. Earlier he co-founded and was CEO of Bharosa, an Oracle Corporation company, which produced the Oracle Adaptive Access Manager. Fisheris a named inventor on six U.S. and eight foreign patents, and three U.S. and 17 foreign patents pending. Fisher is a recipient of the Ernst and Young Entrepreneur Of The Year award.