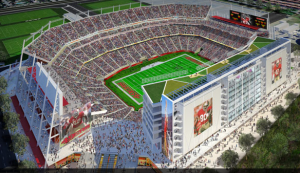 Even as some other sports teams across the country are facing lower than expected usage of their in-stadium wireless networks, the San Francisco 49ers are planning for full capacity use of the Wi-Fi in their new Levi's Stadium, according to the company supplying the back-end bandwidth.
"Many stadiums plan for 10 to 15 percent [of fans] using the network," said Mike Tighe, executive director of data services at Comcast Business, in a recent phone interview following the announcement that Comcast would provide some huge pipes — twin 10 Gbps Ethernet fiber lines — as part of its Wi-Fi sponsorship deal with the Niners and Levi's Stadium. But the Niners, Tighe said, know that their new stadium is a different beast, located smack dab in the middle of super-connected Silicon Valley. As such, Tighe said the team is building a network designed to support a connection from each and every one of the 68,500 possible fans who can fit in the new facility.
"The Niners know the Valley is a tech center, and they are planning for 100 percent of users [on the network]," Tighe said. The new stadium is located south of San Francisco in the city of Santa Clara, the headquarters location of many high-tech companies, whose always-connected workers are expected to be a huge part of the new stadium fan base. Though the team may never truly see 100 percent network use, it is a good bet that Niners' crowds will be significantly heavier wireless users than the norm. That's why Comcast is providing the twin 10-gig connections, which Tighe calls "the fattest pipes we offer."
Comcast's stadium expertise expanding
Over the last year or so, Comcast has built up an impressive resume of stadium-backhaul deals, with contracts that include bringing business-class services to the stadiums of the Denver Broncos, the Boston Red Sox and Boston Celtics, the Washington Nationals and the Oakland Athletics. Comcast, with headquarters in Philadelphia, also supplies bandwidth and Wi-Fi to the Philadelphia 76ers at Wells Fargo Arena and to the Phillies at Citizens Bank Park.
As providers of the service that eventually connects fans to the Internet, Tighe and Comcast have a front-row seat to the ever-expanding use of mobile devices at stadiums and arenas. One of the selling points of an Ethernet connection is its ability to rapidly scale upward, something Tighe said sports teams are rapidly learning about, especially if the team does well on the playing surface.
The Boston Red Sox, for instance, had a 100 Mbps Comcast connection, but then the team made the playoffs and network demand surged, Tighe said. "The good thing was, we were able to upgrade [the link] to 1 Gig in a week," he said.
One new twist to wireless networking in stadiums is the need to equally support upload and download traffic, something Tighe said is much different than traditional cellular or wireless deployments, where download traffic was typically as much as five times as big as upload traffic. In stadiums it's much different as fans spend a lot of time snapping pictures and videos and uploading them to friends or to social media websites.
"People in the stadium are content publishers," Tighe said.
More stadiums are learning about networking demands
While some stadium tech representatives are still underestimating their potential network capacity needs, Tighe sees a general uptick in the technical knowledge base as more fans arrive with big-screen smartphones and tablets on game days.
"Everyone [in the stadium tech business] is learning and becoming more and more tech-savvy," Tighe said. "They know people are coming to the stadium with phones and tablets, and expect to view plays from different angles and see replays."
And when it comes to stadium networks, there may not be a more-anticipated opening than Levi's, which is scheduled to open its doors to soccer games this summer ahead of the Niners' season this fall. Tighe is confident that the network — and its backhaul — will change minds as to what is possible in the stadium networking market.
"When people see what the Niners have done it's going to cause a lot of teams to rethink the fan experience," Tighe said.