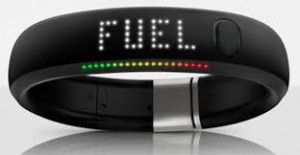 With the original introduction of the Nike + FuelBand last year users were presented with a tool that enabled them to track their activities and monitor their exercise of a daily, hourly or even by the second basis.
However active and inactive users learned that the system could be gamed and you could increase your ratings by doing such activities as punching the air. It also fell down on some activities that while strenuous, simply did not register, such as yoga.
Now Nike has come out with a new generation of FuelBands, the Nike + FuelBand SE that not only address the flaws in the first generation but have enhanced features that help you monitor additional activities and even count calories when you are inactive, such as when sleeping.
At a press event in New York that sometimes resembled a calisthenics class the company showed off the latest technology and ran it through its paces, with an assist from some of the more energetic members of the audience.
The company took all of the data that it had accumulated over the past year to fine tune its algorithms that are the heart of the monitoring program and to improve its measurement and tracking capabilities. The band uses Bluetooth 4 technology to connect to the related Nike+ FuelBand app.
The band comes with features that are designed to help motivate you to be active including one called "Win the Hour" that tracks each hour's total movement that features built-in reminders. Then there is "Fuel Rate" that helps you see how much fuel is being earned. The bands have color coded signals to let you know where you rate. There are others such as "Milestones", "Nike + Move" app and more.
Nike is also looking to expand the ecosystem of the FuelBand by teaming with developers that will use the NikeFuel APIs in a program called the Nike + Fuel Lab, an enhanced version of what it had been doing with its Nike + Accelerator program.
A downside to the band is there is no apparent Android support as of yet. Android users will have to go to the company's web site for tracking and information purposes. It does support Apple's operating system. iOS 7.
The Nike+ FuelBand SE is available for preorder now and will be available beginning Nov. 6 in the current Nike+ FuelBand countries of U.S., Canada, and the UK and for the first time in France, Germany and Japan. The Nike+ FuelBand SE will launch in Black and the Sport Pack colors of Volt, Pink Foil or Total Crimson priced at $149.