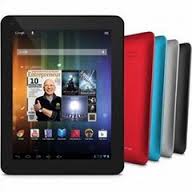 Ematic has joined the tablet fray with an 8-inch Android-based offering as the market continues to heat up in the short term and Android tablets overtake Apple's iPad in market share, just prior to Apple's expected revamping of its own tablet offerings.
The Ematic 8" Pro Series tablet is a low cost alternative to many of the rivals in this space be they running Apple, Android or Microsoft operating systems. The 8-inch tablet has a $130 price tag, putting it under almost all rivals in this space.
The tablet runs the Android 4.1 operating system (Jelly Bean) and features an 8-inch 1024 x 768 resolution display with 1GB RAM, an ARM 1.6GHz dual core processor with 8GB of storage that is expandable to 32GBs via a microSD card. It comes with 5GBs of cloud storage and there is also a 2MP back and 0.3 MP front facing cameras. For those that want to stream to a television it has HDMI output.
The competition in the tablet space has been fierce and is expected to stay that way, at last now that new platforms are here or on the way. Amazon and Google have both recently refreshed their offerings and Apple is expected to do so later this month.
Sales slowed in the last quarter, attributed to lack of new models from the major players, according to research firm IDC.
However once you have one tablet a second one often makes sense and I can see the low cost providers starting to surge as they offer a great deal of what the larger, better known players offer. Into this space developers such as Ematic should find a sweet spot.