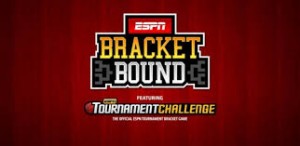 It comes as no surprise that ESPN is reaching out to mobile users to offer leagues for users to enter for the upcoming NCAA Basketball Tournaments, but it is nice to know that there are features that will appeal to the diehard basketball fan as well as to people that only pay attention at this time of year.
The free "ESPN Bracket Bound" app, designed for use with both Android and Apple's iOS mobile devices provides fans with the chance to enter both the Men's and Women's tournaments with either the ESPN Men's Tournament Challenge, presented by Allstate, Acura and Taco Bell or the ESPN Women's Tournament Challenge presented by Capitol One.
The app also allows fans to participate in the ESPN College Hoops Pick'Em challenge that allows fans to predict the winner of each tournament match up, with bonus points for correctly picking games where the lower seeded team wins.
The app can be customized to allow fans to follow individual teams and specify games that they are interested in following by providing the scores and schedules. Other features of the ESPN Bracket Bound app include game clips, video analysis from ESPN's college basketball experts and analysts, bracketology, game previews, recaps, analysis and highlights
ESPN.com also provides several levels of support and information to help fans select their teams. Available for all fans is access to its college basketball experts and analysts. For members of ESPN Insider there are additional predictor and analysis tools available.
The tournaments are not just for bragging rights. When the Men's tournament is over the top 1% are entered into a random drawing to win a $10,000 Best Buy Gift Card and the top 1% in the Women's bracket will be in a drawing to take home a $5,000 card from Best Buy.