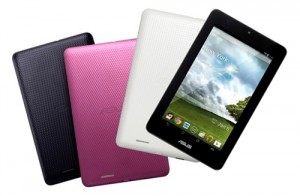 Asus avoided the glitter of CES by waiting until after the show had closed its doors before quietly expanding its tablet offerings with the Asus Memo Pad ME172V, a 7-inch tablet that will be priced just under $150.
The tablet will have a 1GHz processor powering the device that will include the Android 4.1 operating system and will feature 1024 x 600 dpi screen resolution and will initially be available with either 8GB or 16GB of storage. It has a 1MP front facing camera and has the ability to expand its storage by as much as double via the use of a 16GB microSD card and also includes a microUSB port for additional peripherals.
The company has not given a definitive release date for the tablet in the United States but has said that it will release it in select markets later this month. It has been speculated that this means the US, but that is not clear yet. It will be available in three colors
It will be in a very competitive space where rivals are more entrenched including the Nexus 7 which has a better screen and a more powerful processor. However the move by Asus has been long anticipated, and is just its first move into the 7-inch space. It came after a flurry of additional tablet news from earlier in the month.
A Pair of Tablets Unveiled at the Show
This follows a bigger splash from Asus at the CES show, where it took the wraps off a pair of tablets as well as an ultrabook. The first of the tablets was the Vivo Tab Smart, one of the first tablets that will be available running Microsoft's Windows 8 operating systems and powered by an Intel Z2760 dual core Atom processor. The 10-inch tablet features a 1366 x 768 dpi display and includes an 8MP rear focus camera as well as the 2MP front facing camera. So far the company has not revealed when it will be shipping or at what price.
The company also revealed additional details of its Transformer AiO tablet, a large form devices that it has designed to run both Windows 8 as well as Android. It features a 18.4-inch screen with a 1920 x 1080 resolution. As befits a device designed to run dual operating systems it has both an Intel Atom and an nVidia processor, one to run each OS apparently. Delivery date is still unannounced but an entry level device is expected to start at $1,300.