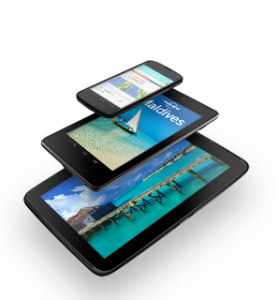 Google did not let the cancellation of its New York event due to Hurricane Sandy get it down and came to market today with a trio of new products including a pair of tablets as well as a new smartphone all running the latest version of Android.
Starting smallest first is the latest in its smartphone lineup, the Nexus 4, built by partner LG. It features a quad core processor, a 4.7-inch 320 ppi screen with wireless charging capabilities. On the software side there are several new or enhanced products starting with the latest version of its Android operating system, Jelly Bean 4.2., support for Gesture Typing and a new photo technology called Photo Sphere.
The 8GB version is available for $299 while the 16GB for $349; available unlocked and without a contract on November 13. The 16GB version will also be available through T-Mobile for $199, with a 2-year contract
It has revamped its existing Nexus 7 to make it slightly thinner and lighter and with expanded communications capabilities with HSPA+ mobile data plans from carriers such as AT&T. The Wi-Fi-only versions will larger storage options: 16GB for $200 for the original version or 32GB for $250. The 32GB HSPA+ version of the tablet will cost $300.
The company has also broken into the 10-inch tablet space with the debut of the here's also the Nexus 10, built in partnership with Samsung. With a high end display with a 2560 x 1600 resolution display and a battery than can support nine hours of video playback. It has a range of interesting features including support for multiple users with their own profiles and apps. The Nexus 10 will be also be available on November 13 in two storage capacities- the 16GB for $399 and the 32GB for $499.
The move comes days after Microsoft entered the 10-inch tablet space with the first of its Surface tablets. A host of third party Windows 8 tablets are expected in the next few weeks and months. Apple has also just expanded its iPad franchise with the release of the iPad mini last week. It was just a few weeks ago that Amazon expanded its Kindle lineup.
One thing is for certain-consumers looking for a tablet this holiday season will have a much broader, much better built lineup of products from a much bigger range of developers.