If you are a betting person it looks like a safe bet would be that Apple will be taking the wraps off of its next generation iPhone, the so-called iPhone 5. The company has started sending out press invites for an event at the Yerba Buena Center for the Arts in San Francisco on that date.
Originally it was believed that Apple would also introduce its next generation iPad at the same event but it now appears that the company will host a different event within the next month to launch that product.
Intel takes another shot at ARM
Intel has long coveted the handheld processor market but has been pretty well shut out of it by market leader ARM and its allies. Next week at its annual Intel Developer Forum the company is expected to fire its latest salvo in its battle.
It is expected to unveil a chip code-named Haswell that has been designed as a solution for developers that are seeking an ultra power-efficient chip, according to C/net. The company is seeking to make inroads in both the tablet and smartphone space with the processor, which is not expected until the second half of 2013.
Earn Rewards for Activity on NFL.com
Are you always reading articles and commenting on them at the NFL.com web site? Well now you can earn rewards for doing just that as the NFL Digital Media has launched a program entitled NFL Fans Reward.
Reading and commenting are not the only ways to earn rewards as a number of other activities are included including watching video or participating in what it calls Drives. The rewards are in the form of virtual coins that can be redeemed at the NFL.com Rewards store.
Does Fantasy Football really cost employers $5.6 B?
That at least is the result of a study by Chicago-based outplacement firm Challenger, Gray & Christmas which made its estimation based on how much time employees spend on managing their fantasy rosters and general goofing off related to the fantasy team.
The report estimates that there are 22.3 million employees engaged in fantasy football and you can go to their site to see the overall math. I know reports like this come out each spring during March Madness and they tend to get rebutted by other studies that show that employees simply switch topics that they goof off on as the year progresses. So take the report with a grain of salt.
New smartphone rollouts from Nokia, Motorola beat Apple to the market
It used to be that hardware developers looked at the calendar and set their next product rollout based on the age of their current offerings as well as where the year is in relation to top selling season. Now it seems that the goal is to beat a rival to making waves with an announcement.
This week Nokia debuted a few new Windows 8 phones while Motorola Mobility unleashed 3 new phones, it's first under Google. Why this week you ask? Apple is expected to release the new iPhone next week and they wanted to beat it to the punch. Of course Samsung seems to release products when it wants to and its Galaxy IIIS has already sold 20 million units.
Newbie to Twitter and want to follow the NFL? No problem!
Twitter has kindly provided a guide at its Blog for users that want to follow the NFL on Twitter. You would really have t be new to Twitter to not already know how to use the features but still it is a good idea because I know several people that have signed up for the service and then seem paralyzed when called on to use it.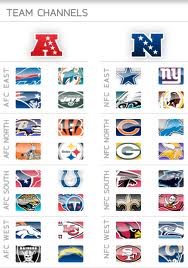 Sports Illustrated takes the guessing out of NFL football broadcasting
The nice people at Sports Illustrated have taken the time to pour over all of the broadcasting teams, including personnel additions and subtractions, and made all of that information available in a nice little piece that can be found here.
I am not sure if the broadcasting teams are listed in order of how big a game that they will be broadcasting but I suspect that the top teams head each list. Also does ESPN really believe that we need two hosts, six analysts, seven reporters and a features person for its pregame show? Sometimes more is not better. And am I the only person that thinks with each passing season Jon Gruden looks more and more like Roger Goodell?
Speaking of Football, How cheap is your NFL team?
Profootballtalk ran a nice little piece showing how much each team in the NFL is under the salary cap. I was surprised at some of the results but expected a few teams that were in the top ten. Take a look and see why your team does not have a shut down corner.
Then hop over to ESPN and see how your teams' ticket rices compare to the rest of the league. I was surprised that the NY Jets have not taken over the top spot in this area. Average cost is $78.38 and the average cost of a beer is $7.28.
Big 12 to sign $2.6 billion TV deal
The Big 12 is about to finalize broadcasting deals with ESPN and Fox Sports that will result in a $2.6 billion over the next 13 years, or approximately $200 million a year. Even for college that is real money!