All the live coverage of PGA Tour events next season will be shown simultaneously on the tour's digital platforms, including via its mobile apps and at the PGATour.com website, a tour executive said Wednesday.
In a phone interview with Luis Goicouria, the vice president of operations and business development for PGA Tour Digital, Goicouria said that for the 2013 season, all live tour TV coverage will be simulcast online, giving mobile and web-connected fans the same experience as those sitting in front of a TV. The expansion of live video content, Goicoura said, is a direct response to fans' desire for more mobile content, especially live video of tournament play.
"Our [online + mobile] video content consumption is going through the roof," said Goicouria, who said that tour-hosted video starts are up 81 percent so far this year over last, and YouTube views of archived videos has increased 94 percent in the same time frame. Currently, the Tour offers its "Live@" program for 10 selected tournaments during the season, typically the bigger ones like the recent Memorial tourney. The Live@ production is separate from and typically less comprehensive than any network coverage, though of similar production quality. According to Goicouria, the Live@ broadcasts typically attract between a half-million and a million video streams per event.
The Live@ coverage typically focuses on one or two "scoring" holes or signature holes, like the island green at the Players Championship. Though it doesn't offer the breadth of coverage a typical network broadcast from partners Golf Channel, CBS, NBC or ESPN does, the Live@ shows aren't chopped liver either.
"It's not like we just slap a couple webcams on a green," Goicouria said. "It's a full-blown studio production."
But Goicouria said the costs associated with such production keep the tour from rolling out Live@ at every stop. Unfortunately that leaves online-only or mobile-centric fans behind their counterparts on the couch when it comes to live video. Next season that ends, with the digital platforms (the website, as well as the iOS and Android apps) offering simulcasts of the live TV coverage, as well as Live@'s additional focus at the selected events.
Goicouria also said that the tour is working to make its addictive Shot Tracker feature (screen grab below) available for mobile devices, but didn't yet promise a delivery date. Shot Tracker, which gives real-time updates on a tournament field by showing how far a player has hit a shot and how far he has left to the hole, can be mesmerizing, with players' statuses constantly updating. The main reason it hasn't been available for mobile platforms, Goicouria said, was due to the fact that the application was built with Adobe Flash, which isn't supported on Apple devices like the iPhone or iPad.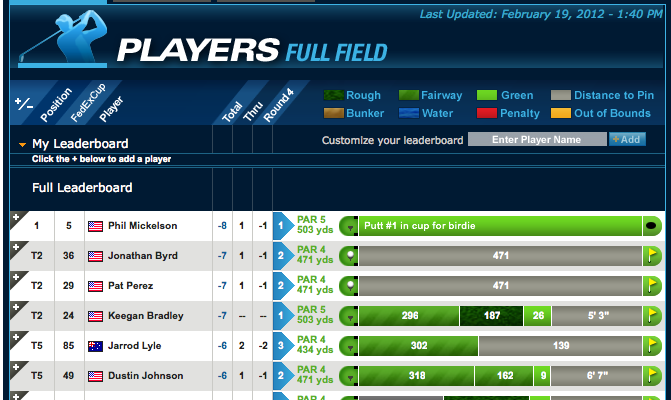 "If there was one thing I wish we had for mobile that we don't, it's Shot Tracker," said Goicouria, who pledged a "complete revamp" of the feature for next season.