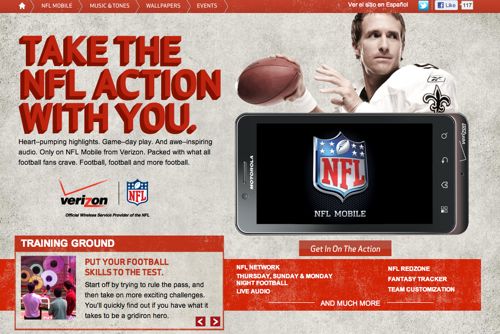 The ability to watch Monday Night Football on your phone — like tonight's game between the Philadelphia Eagles and the Chicago Bears — has drawn a lot of new fans to Verizon Wireless's NFL Mobile app, according to a company executive in charge of the service.
"The NFL Mobile app is very popular, and we continue to see growth [in user numbers]," said Mitch Dornich, Verizon Wireless marketing director for entertainment and sponsorships, in a phone interview. Though Dornich would not disclose updated subscriber numbers, last year Verizon reportedly had at least 4.5 million of its wireless customers using the NFL Mobile app — a number that has almost certainly grown thanks to the addition of live Monday Night Football games to the app's premium-service tier this season.
"Last year, we had Thursday night games, Sunday night games, the NFL Network shows and the RedZone," said Dornich. "This year we added Monday Night Football and it's been a big lift. RedZone as a companion device during other broadcasts and Monday Night Football seem to be our biggest draws."
Audio Broadcasts Also Popular
Though Verizon's promotions of the NFL Mobile app center around live video and the company's new, fast 4G LTE network, it is good old audio broadcasts that account for another big chunk of NFL Mobile use.
"Audio consumption is very high, probably because it's the perfect companion if you're doing something like driving, where you can't watch the screen," Dornich said. With both home and away audio broadcast choices NFL Mobile can satisfy fans of either side of any NFL contest, and couples the live audio with instantly updated text play-by-play.
According to Dornich, many Verizon wireless customers may start out with the basic free version of the NFL Mobile app, which supports features like the audio broadcasts and play-by-play, and then upgrade to the premium version after getting a taste of the video choices available. Verizon added some video-on-demand features, like in-game highlights, to the basic package this season and Dornich guessed the appetizer has enticed many fans to upgrade for the full meal deal.
For Verizon customers with 3G phones that support video (like the iPhone 4 or the iPhone 4s) the premium NFL Mobile package requires a $10 per month "Verizon Video" fee in addition to any other data plan.
"This year we put the VOD into the basic package so people could see the value," Dornich said. Verizon is also waiving the $10 monthly fee for the rest of the 2011-12 season for customers who purchase 4G LTE phones. In and of itself, the NFL Mobile app is a bit of a promotional tool for the 4G LTE network, Dornich said.
"It's really good for us, because [the NFL Mobile app] helps us differentiate our network from the competition," Dornich said. "It shows customers what the network is capable of."
Technical Challenges: Getting Good Video to Handsets
One of the biggest challenges for Verizon is optimizing the video streams to the many different handsets that are supported, which include Android smartphones as well as a long list of BlackBerry devices. "It's not just about delivering the highest bit rate, since you may deliver something that a handset processor could choke on," Dornich said. "The challenge for us is how to optimize the stream, so it's right-sized for a particular handset."
Though the NFL Mobile app is not yet supported on what is fast becoming the couch potato's favorite companion device — the Apple iPad and its tablet imitators — Dornich said to "stay tuned" for news about iPad and NFL Mobile.
Verizon also takes care to alert potential NFL Mobile heavy users that watching a lot of video on your phone may be hazardous to the health of your monthly data plan. "We are always pretty clear up front that high usage [of NFL Mobile video] may impact your data plan," Dornich said. One way fans can keep data consumption under control is to seek out Wi-Fi hotspots when they know they are going to watch a lot of video, Dornich said.
Verizon Wireless, which also has mobile apps for fans of the National Hockey League and IndyCar auto racing, said it is happy with the results of its $720 million deal with the NFL, which gives Verizon exclusive rights to cellphone viewing (though fans with other paid packages, like DirecTV's Sunday Ticket or the Slingbox can also watch their services via a mobile connection).
"We're very happy with the agreement," Dornich said. "Our expectations have been validated."