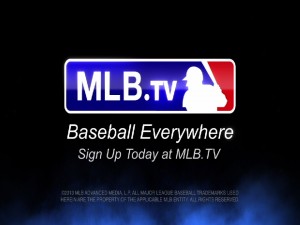 One of the advantages of having MLB.TV Premium subscription has always been that you can use a variety of platforms to watch and listen to games, but until MLB added TiVo I never realized how many it actually did support.
TiVo users can now watch MLB games, subject to certain limitations, and the app is designed to take advantage of select features that come with TiVo. MLB integrated TiVo's standard playback functions into the app, including the ability to pause, fast-forward and rewind or skip game action.
The MLB.TV is set up to deliver game viewing and video stream in a picture-in-graphic (PIG) or an "L bar" window to view the score while watching a game. There are a range of additional features from the relatively mundane ones such as stats and standings, favorite team selection, a choice of home or away broadcasters, and calendar view to one called "Jump to Inning" that permits users to jump back to the beginning of any inning in the game.
The addition of TiVo support is in line with MLB's approach of delivering its programming and games to its audience in as wide a manner as possible. It has a number of mobile devices supported including Apple's iPhone, iPod Touch and iPad. Then there is the huge number of devices that support Google's Android operating system and most recently added was support for the BlackBerry Z10.
Now I was aware of all of these but the other, more stationary platforms caught me by a bit of a surprise, although I have watched games on two of the platforms. There is the Sony Playstation 3, Samsung TV and Blu-ray Disc Player, Apple TV, Roku Player and Boxee. Then of course there is also Xbox 360, Sony TV and Blu-ray players and Western Digital TV Live.
It is too bad that other sports do not actively follow the lead of MLB, but I guess that the broadcasting contracts most likely prohibit them from doing so. Fans of many teams, say in football, are constantly subjected to a limited number of teams on national broadcasts, and if you live outside of your teams home base you may only see them once or twice on broadcast TV a season.