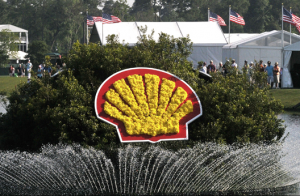 Welcome to a new feature here at MSR, something we are calling "Watching Golf this week," at least until we come up with a better title. Anyway, what we're doing is compiling all the ways you can watch the PGA Tour this weekend — online, on TV, on Twitter, and anywhere else we can find. Please give us a shout in the comments if you know of other outlets or have favorite columnists or reporters who follow pro golf. It's all about sharing here so don't be shy.
With one week to go before the Masters, this week's Shell Houston Open is the last chance for players who don't already have an invite to get one by either winning the event, or by doing well enough to move into the top 50 in the overall rankings, either of which will stamp your ticket to Augusta. Who's on the bubble and needs to do well? Ernie Els, seeking a Masters title for his Hall of Fame resume, stands at No. 58 and just missed winning a couple weeks ago. Fred Couples (winner last week on the Champions Tour — ready for Augusta?) and defending Houston champ Phil Mickelson will also be on hand, so even with no Tiger the Houston stop should have its own drama worthy of watching.
Here's where to follow the action:
SHELL HOUSTON OPEN
(all times Eastern)
TV COVERAGE
Thursday, March 29 — Golf Channel, 3 p.m. — 6 p.m.
Friday, March 30 — Golf Channel, 3 p.m. — 6 p.m.
Saturday, March 31 — NBC, 3 p.m. — 6 p.m.
Sunday, April 1 — NBC, 3 p.m. — 6 p.m.
RADIO
SIRIUS XM (Satellite)
12 p.m. — 6 p.m., Thursday-Sunday
ONLINE
No PGA Live@ coverage for Houston. But get ready for plenty of online at the Masters next week.
PGA SHOT TRACKER
This thing is addictive. Live updates of every shot, with length, where it landed, how far the player has to go to the hole. Like eating potato chips.
TOP TWITTER FEEDS TO FOLLOW
Golf Channel — official Golf Channel feed
@PGATOUR — official PGA Twitter feed
@StephanieWei — great golf writer who is a Twitter fiend
LOCAL FLAVOR
The Houston Chronicle and writer Steve Campbell has you covered for local flavor this week.
WHAT'S THE COURSE LIKE?
Check out the PGA's Inside the Course feature for a look at Redstone Golf Club.
WHO WON THIS THING LAST YEAR?
Lefty — aka Phil Mickelson. He'll be paired with a couple other Masters champs, Boom Boom Freddie and Charl "no nickname yet" Schwartzel.
FEDEX CUP LEADERS
1. Johnson Wagner, 1,017 points
2. Rory McIlroy, 1,015
3. Kyle Stanley, 954
4. Mark Wilson, 887
5. Phil Mickelson, 880
See the full standings for the FedEx Cup points list.
WORLD GOLF RANKINGS
1. Luke Donald; 2. Rory McIlroy; 3. Lee Westwood; 4. Martin Kaymer; 5. Steve Stricker.
See the official World Golf Ranking list.