Good news first: The 94th running of the PGA Championship will have a boatload of online and viewing options, and all kinds of web-enabled goodies to allow you to enjoy the year's last major from the comfort of your desk, laptop, or iPhone or iPad. (Here's the link to live video.) The bad news? It may not wrap up until Monday given the probability of thunderstorms likely to hit the Island Course in Kiawah, South Carolina. At least during the inevitable rain delays, you will have all kinds of diversions like the PGA's new Social Caddy page to let you watch Twitter streams of players and caddies waiting out the rain.
A quick note on the online stuff — though we had written before that the PGA Tour and Turner Sports were parting ways, the relationship between Turner and the PGA Championship is a different beast — and as such Turner will be pulling out all the stops with TNT coverage Thursday, Friday and before CBS on the weekends, and a whole bunch of good website stuff, including lots of photos and videos.
Several things that we are going to look closely at for the live online video (which starts at 8:30 a.m. Eastern on Thursday and Friday) are the multiple camera views and featured groups that Turner says we'll be able to follow online. We were disappointed at the U.S. Open's somewhat limited online options, so let's see if Turner can do better at the PGA. So far, the Masters is still far and away the online king of majors. We are heavily disappointed that the PGA app is iPhone only — c'mon folks, there are a heckuva lot of Android phones out there. Bad form to not have an Android app ready. Like in gymnastics, we're taking a full point deduction there.
As for the actual golf… once again it really is all about Tiger, and whether or not he can get the job done at a major. Kiawah really doesn't suit his perfectionist game — weirdo target golf — but when he is on, he really is the Usain Bolt of golf. I think it's good to note here that had he not three-putted on that disaster bunker hole and not gone over the green on the par-3, Tiger would be your defending British Open champion. Just saying, the guy didn't have anything near his "A" game and he still almost took the jug. He's still the rock lock on my ESPN Fantasy team, but behind him I see… maybe Jason Dufner? An incredibly consistent year and good performances in the majors. Like last year, he could be standing near the end while others are falling.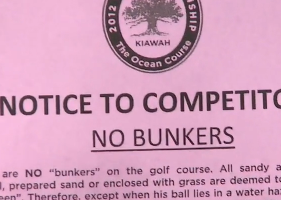 Who else? I like Dustin Johnson's ability but fear that Dustin is his own biggest enemy. At least there are no sand-trap rules for Johnson to worry about. Unlike the PGA two years ago where there were bunkers everywhere, there is a lot of sand at Kiawah but… according to some weird rule none of the sand is a bunker. So expect to see a lot of guys grounding their clubs, and a million calls to the PGA offices to follow. Watch the video and learn why it's not a problem.
Finally my dark horse pick: Someone who historically plays well in South Carolina coastal courses, someone who has been surprisingly sharp at times this year… while he puts together his Ryder Cup team. That's right, I am giving some love to the Captain, DLIII, Davis Love the Thirdly, to find another rainbow and win a second major in the gloaming of his career. I watched Love for a hole at Olympic during the Open, and his game seemed anything but old, striping a 2-iron off the tee and outhitting a younger playing partner who went 3-wood. Nice. In reality Love will probably be on the sidelines Saturday and Sunday, watching to see if Phil Mickelson can give him a reason to make him a captain's pick for the Ryder roster. Enough Olympics already. Let's get this war by the shore started.
Here's where to follow the action:
94th PGA CHAMPIONSHIP
(all times Eastern)
TV COVERAGE
Thursday, Aug. 9 — TNT, 1 p.m. — 7 p.m.
Friday, Aug. 10 — TNT, 1 p.m. — 7 p.m.
Saturday, Aug. 11 — TNT, 11 a.m. — 2 p.m. — 7 p.m.; CBS, 2 p.m. — 7 p.m.
Sunday, Aug. 12 — TNT, 11 a.m. — 2 p.m. — 7 p.m.; CBS, 2 p.m. — 7 p.m.
RADIO
SIRIUS XM (Satellite)
Coverage starts at 12 p.m. Thursday & Friday, 2 p.m. Saturday and Sunday.
ONLINE
As we said above, there is going to be a lot of online video, including marquee groups, par 3 coverage and press conferences. HERE IS THE LIVE VIDEO PAGE.
PGA SHOT TRACKER
No Shot Tracker this week.
FACEBOOK PAGE
If it looks like the beach, it's the PGA Facebook page for Kiawah.
TOP TWITTER FEEDS TO FOLLOW
HASHTAG FOR THE PGA IS: #PGAChamp
Geoff Shackelford — well known golf writer. If you're not following Geoff you are missing the online boat.
Golf Channel — official Golf Channel feed
@PGATOUR — official PGA Twitter feed
@StephanieWei — great golf writer who is a Twitter fiend. Who won't be going back to Akron anytime soon.
Doug Ferguson is the lead golf writer for AP. Good Twitter insights that often aren't part of your wire-service lead.
WHAT'S THE COURSE LIKE?
You're kidding, right? Like you haven't heard of the Island Course. Or seen numerous recaps of The War by the Shore. Well here is the official page, knock yourself out.
WHO WON THIS THING LAST YEAR?
Keegan "long putter" Bradley. Outlasting our man Duf.
FEDEX CUP LEADERS
1. Tiger Woods, 2,204 points
2. Zach Johnson, 2,018
3. Jason Dufner, 1,983
4. Hunter Mahan, 1,739
5. Bubba Watson, 1,712
See the full standings for the FedEx Cup points list.
WORLD GOLF RANKINGS
1. Luke Donald; 2. Tiger Woods; 3. Rory McIlroy; 4. Lee Westwood; 5. Webb Simpson.
See the official World Golf Ranking list.