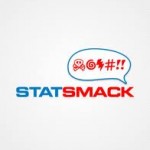 StatSheet has launched something simple, and simply ingenious, to the sports social media public.
Called StatSmack, and available online, through App Store and Android Market, the service allows sports fans to select their favorite team and an opponent from drop-down boxes, and access statistics that will make their tweets more relevant, edgier, and cutting.
Why StatSmack is a Big Deal
This is a legitimate breakthrough in sports social media.
Today, whether following a twitter stream or a game space for social media interaction, you'll notice that the majority of people are not that creative when it comes to what they share.
During a New England Patriots versus New York Giants game, it would not be surprising to see 70 percent or more of all tweets saying nothing more than "Go Patriots" or "Go Giants,"  for example.
StatSmack pulls information from wide and various sources to give people edgy perspective, and ideas about what they might tweet about. It uses artificial intelligence to scour the Internet for statistics to construct the tweets, which can range from traditional sports statistics, to average heights and weights of players to city crime statistics.
StatSmack in Action
Using StatSmack, here are some of the 15 tweets a Giants fan could get online, on their smart phone or on their tablet:
Allow me to direct you to the scoreboard. Last time they played, the Giants beat the Patriots by 4 points (Nov. 6, 2011).

The giants sacks leader (Jason Pierre Paul w/16.5) is better than the Patriots sacks leader (Mark Anderson w/10.0)

More people watch the Giants than the Patriots (TV market rank: #1 versus #7)
A Patriots fan would get 32 smacks in a display that looks like this: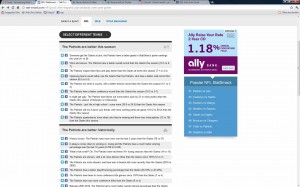 StatSmack in Social Media
StatSmack has implications for sports social media in many ways.
Today, such companies as GiveMojo are creating game spaces out of Twitter streams. In those scenarios, tweet volume and the quality of tweets are counted and refereed, with teams competing during games to see which team outscores the other. StatSmack is an important new tool for those applications because it provides fodder for fans who otherwise might be stymied to come up with original things to say.
In addition, StatSmack breaks new ground by landing what many other companies are still trying to reel in — sponsorship.
According to StatSheet founder and CEO Robbie Allen, a deal with a large financial services company has been signed to provide promoted smacks as part of the service. It marks one of the first times a sports social innovation has been quick to monetize, and could signal that other companies will have an easier time landing financial support in 2012.
"It worked out that we found the right sponsor at the right time," Allen said, while declining to name the company because the deal has not been formally announced. "The big advantage for us that's very difficult for other media companies to match is that we can embed the sponsor in the content."
Media Company on the Rise
StatSheet's release of StatSmack marks the continued rise of a media company to be reckoned with in years to come.
Part of Automated Insights, StatSheet uses artificial intelligence to transform publicly available statistics into articles, summaries and headlines in real time. Focused today on NCAA college basketball, Major League Baseball and the National Football League, StatSheet transforms the information into comprehensive coverage of individual teams, tailored to the fan's point of view.
Venture funded to the tune of $5.3 million, Automated Insights has the potential to compete and partner with big media, including the ability to takes its automated approach to data collection to such sectors as financial services, according to an earlier Mobile Sports Report article.