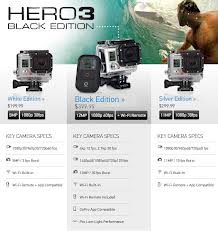 GoPro has enhanced its popular Hero line of action cameras with the unveiling of its Hero3 family that should meet the needs of the most demanding user by following the company's tried and true method of continually making the devices faster and more powerful.
The Hero3 moves GoPro into the realm of the 4k resolution capabilities in its top end offerings. The Hero3 family has a trio of models, each designed for different users at different price points, starting with the Hero3 Black at the high end.
The Black comes with 4k resolution, or ultra high definition, capabilities and has a 12MP image sensor that is coupled with an enhanced low light performance. It is capable of recording video at 1080p, 1440p, 960p and 720p resolutions.

The $399.99 camera supports up to 64GB MicroSD cards for storage and has built-in Wi-Fi making it very easy to transfer images and video to more permanent storage or to large screen displays for viewing. It can take still in three resolutions, 12MP, 7MP and 5MP and has burst speed of 30 frames per second and also has both time lapse and continuous capabilities. It has a waterproof case good to 197 feet and is gear mountable.
Next up is the $299.99 Silver Edition, targeted as the natural replacement for the company's previous workhorse offering, the Hero2, but it comes it 25% lighter at under 3 ounces and 30% smaller while sharing the same basic specifications such as the ability to capturing ultra-wide 1080p 30 fps and 720p 60 fps video plus 11MP photos at a rate of 10 photos per second but also has built-in Wi-Fi.
The $199.99 entry level White Edition is waterproof to 197 feet, and is capable of capturing 1080p 30 fps and 720p 60 fps video plus 5MP photos at a rate of 3 photos per second. As with all of the new generation Hero3 cameras it has built-in Wi-Fi. All of the cameras are expected to be available by the end of the month.
There are a growing number of developers in this space with Polaroid jumping into the market recently with a trio of offerings while Sony has been making waves with its Bloggie Sports Camera line.