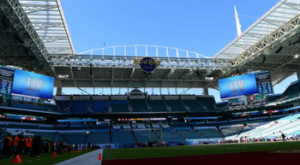 Super Bowl LIV fans who are AT&T wireless customers used 10.2 terabytes of data inside Miami's Hard Rock Stadium during Sunday's game, according to statistics provided by AT&T.
Also according to AT&T the carrier saw an additional 4.3 TB of data used Sunday in a two-mile radius around the Super Bowl venue, bringing AT&T's Super Sunday total to 14.5 TB of data used. Sunday's data totals were the capping on a week of Miami-related wireless activity that saw 172 TB of data used on AT&T's networks in a two-mile radius around the NFL festivities areas.
Interestingly, the numbers have dipped a bit from the previous year's Super Bowl totals, when AT&T said it saw 11.5 TB used in and around Atlanta's Mercedes-Benz Stadium and 23.5 TB used within a two-mile radius of the Super Bowl 53 venue.
However, we've found that it's not always comparing apples to apples with these numbers each year, especially on the cellular front when it's simply harder to define boundaries. Case in point was last year, when the only number we got from Sprint was one that included apparently all of downtown Atlanta. Verizon Wireless and T-Mobile did not report any Super Bowl numbers from last year.
With any luck, we will get more carrier numbers during the week and then hopefully before too long, the official Wi-Fi numbers from Hard Rock Stadium as well. Though we did hear some reports Sunday night about the Wi-Fi struggling in some places during halftime, we also heard other reports of solid coverage so we will wait to see what the final numbers say. Also hoping to get some 5G performance figures, to see if the pre-game hype was realized. Stay tuned!