Editor's note: The following team-by-team capsule reports of NFL stadium technology deployments are an excerpt from our most recent Stadium Tech Report, THE FOOTBALL ISSUE. To get all the capsules in one place as well as our featured reports, interviews and analysis, download your free copy of the full report today.
AFC NORTH
Reporting by Chris Gallo
Baltimore Ravens
M&T Bank Stadium
Seating Capacity: 71,008
Wi-Fi – No
DAS – Yes, 856 antennas
Beaconing – No
The Ravens are in the midst of a $35 million renovation to update their 15-year-old stadium. The focus of the enhancements is on aesthetics, with new video boards and more LED displays being installed. No Wi-Fi at the stadium yet, but fans should have no problem getting a cell signal via the now 2-year old Corning MobileAccess DAS system.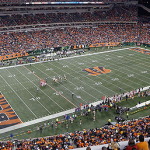 Cincinnati Bengals
Paul Brown Stadium
Seating Capacity: 65,515
Wi-Fi-Yes
DAS-Yes
Beaconing – No
The upgrades on the field over the last two seasons have been significant for the Cincinnati Bengals. And soon you'll be able to say the same about Paul Brown Stadium. Wi-Fi from Extreme Networks is in place for all home games this NFL season.

Cleveland Browns
FirstEnergy Stadium
Seating Capacity: 73,200
Wi-Fi – No, planned for 2015
DAS-Yes
Beaconing – No
Less than a year ago, the Cleveland Browns were awarded $62.5 million from the NFL to improve FirstEnergy Stadium. Upgrades for the 15-year-old stadium include Wi-Fi, video boards, and a new sound system. With two first-round draft picks, a Heisman trophy winner potentially under center, and another new coach – the stadium is not the only thing experiencing a makeover. But Browns fans will have to wait a year to have Wi-Fi and Johnny Football at the same time.
Pittsburgh Steelers
Heinz Field
Seating Capacity: 65,500
Wi-Fi – Yes, 193 access points
DAS – Yes, 339 antennas
Beaconing – No
With plans to increase its capacity over the coming years, it's important for Heinz Field to continue to be one of the best home field advantages in all of football. The easiest way to do that is to keep fans happy. And as a Steelers fan, what sounds better than waving your Terrible Towel whilst taking a selfie? Steelers faithful can do just that thanks to 193 Wi-Fi access points and 339 DAS antennas outfitted from AT&T and Verizon. Now can Pittsburgh return to the playoffs after a 2-year break?