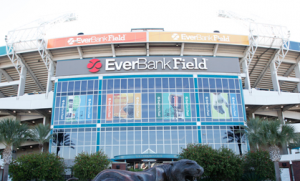 Extreme Networks and SignalShare are teaming up to bring a full-featured Wi-Fi deployment to the Jacksonville Jaguars' EverBank Field for the coming NFL season, in what is perhaps a sign that teams may already be seeking more than just pure connectivity when it comes to putting Wi-Fi in stadiums. In a press release Friday (which was actually pre-announced by the Jaguars on Wednesday), the companies said they have entered into a strategic partnership that will bring both high-density Wi-Fi as well as advanced analytics and network-monetization opportunities to the Jaguars and their 67,246-seat stadium in Jacksonville, Fla.
Extreme is no stranger to the NFL, with deployments of its "IdentiFi" Wi-Fi gear and analytics software already working at the New England Patriots' Gillette Stadium and at the Philadelphia Eagles' Lincoln Financial Field. Last month, Extreme announced it would be the primary provider of Wi-Fi services for the Tennessee Titans' LP Field.
But at Jacksonville, Extreme will be partnering with the much smaller SignalShare, a Raleigh, N.C., concern that has both Wi-Fi integration and deployment expertise, as well as an "audience engagement platform" called "Live-Fi" that the company says "leverages real-time analytics and dynamic messaging to deliver location-aware customized content – including offers, discounts and call-to-actions – to attendees' mobile devices during events." SignalShare says it has systems at work for sports clients including the Sacramento Kings, Houston Rockets, and Indiana Pacers, and has also deployed its systems at other large venues and events, including the U.S. Open tennis tournament and several large outdoor concert venues.
New network, huge video boards… and pools!
Even though much of the sports-tech world is watching the San Francisco 49ers' technology deployments at the brand-new Levi's Stadium, the combination of the Extreme/SignalShare network and other enhancements like the two new humongous LED screens at EverBank (and perhaps the two pool party areas) may make the Jaguars' stadium another tech jewel in the NFL realm. To us the most interesting part of the partnership is its potential to empower network monetization schemes, either through targeted mobile-ad insertions, or some deeper analytic- or location-based network awareness. Though many stadium deals typically involve multiple "silent" partners who do lots of work with little to no public recognition, the very public announcement of this partnership also shows perhaps a maturation of the industry at large in allowing credit (and profits!) to be more equally shared. Let's see what happens in the near future, eh?
We'll do our best to get a deeper profile of the hows and whys of the deployment in the near future, but for now some bullet points from the press release should help get the conversation started. According to Extreme and SignalShare, here are some of the key points about the coming deployment:
● Extreme Networks and SignalShare will install the 802.11ac high-density IdentiFi Wireless solution for outdoor venues to provide Wi-Fi access free of charge to all fans at EverBank Field.
● The Extreme Wi-Fi system is designed to allow fans at EverBank Field, which has a seating capacity of over 67,000, the bandwidth to concurrently access and use multimedia applications without interruption.
● Extreme Networks technology will power a dedicated social hub and moderated social feed that will display relevant content from Instagram and Twitter.
● SignalShare's LiveFi digital network enables the Jaguars to engage and monetize fans by pushing targeted in-browser messaging and advertising to their mobile devices.
● SignalShare is providing the Jaguars consulting and project management for the overall networking deployment, optimization and support.
● Extreme Networks is commitment to enhancing the in-stadium experience for fans and the critical role big data and analytics play in delivering on that goal for today's highly connected fans.
What will be interesting to see is whether or not the Wi-Fi network will extend beyond stadium boundaries (to parking lots and other outside areas), whether it will handle the "overflow" events like the Georgia-Florida game (which can push attendance into the 82,000 mark with temporary seats) and how if at all the Jaguars' team app will incorporate the new connectivity. (And, what about the DAS deployment?) If any Jags fans have a preseason field report from using the network at EverBank (which we expect has probably already been in operation in some areas) please let us know… and send along any SpeedTest results as well!