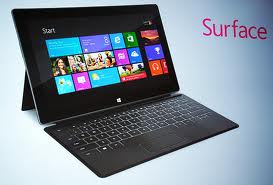 After the lackluster news about the holiday sales of its first generation tablet, the Surface RT, and then more bad news about its Pro version just prior to shipping Microsoft has some good news to report. It's sold out!
It was reported that just a day into its widespread availability Microsoft was out of its 128GB version of its Surface Pro tablet, although its 64GB version remained on the shelves for prospective customers.
Well that might not be so great since it could mean loss of sales but it looks to be a short term issue as the company has a new round of tablets on the way and they are expected to hit store shelves as well as Microsoft's own online store by this weekend.
Some have questioned if the tablets actually sold out, or if it was an artificial shortage designed to get solid publicity for the company by showing demand for the tablet. PCWorld posed that question and has provided similar comments from others.
Still it is hard to say for sure since it is doubtful that Microsoft is going to provide its roadmap and strategic plans for use to look at. The question I have is if the demand for the highest capacity tablets was driven by the news of how little space was actually available for users?
I guess we will see the true popularity of the tablets, both from Microsoft and others when IDC releases its next quarterly tablet report. Other Windows tablets have received popular acclaim, such as the most recent offering from Lenovo. This should help break open the market even more, providing Samsung, Apple, Google and Amazon with a new generation of competition.