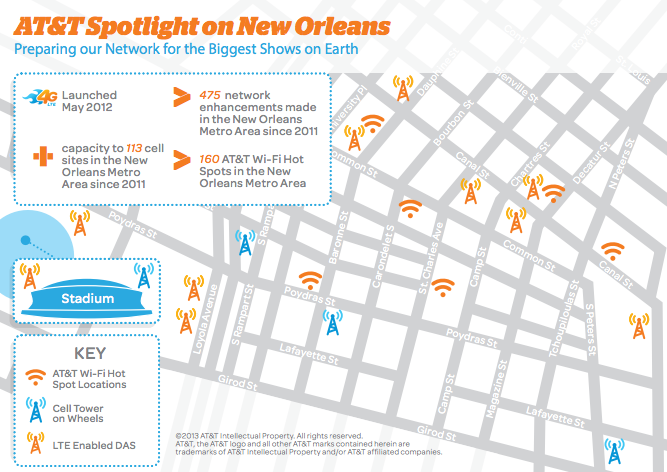 AT&T has beefed up its cellular coverage in the New Orleans downtown area by installing several Distributed Antenna Systems (DAS) to help handle the expected crowds for the forthcoming Super Bowl on Feb. 3.
According to an AT&T press release Ma Bell has added some outdoor DAS systems as well as DAS deployments inside New Orleans hotels to help ensure that Super Bowl fans stay connected with their mobile devices. For those new to cellular technologies, DAS is basically a bunch of smaller cellular antennas that get spread around strategic locations where large crowds might gather, to bring more capacity to the cellular cloud. You can put up DAS antennas outside, on street poles, or inside places like hotels. There they act just like regular cellular antennas, connecting to the closest handsets.
Just to make sure that important call, tweet or Facebook post gets through, AT&T will also deploy 11 temporary cell sites to the Big Easy for Super week — the cleverly named COWs or Cell towers On Wheels — and if all else fails you can look for one of the 135 existing AT&T Wi-Fi hotspots in the New Orleans area.
We expect other major cell providers to chime in with their Super Bowl enhancements soon. The good news is, the Mercedes Benz Superdome had a pretty major DAS upgrade of its own last year so cell service inside should be OK.