Google has delivered a host of new features for its Android operating system as well as a co-developed 7-inch tablet and its first consumer electronics device that is designed to unify and play the data that you might have stored in the cloud.
The tablet was developed along with partner Asus and is called the Nexus 7, a 7-inch tablet that will take on everything from products from rival's Amazon's Kindle , Barnes and Noble's Nook, Microsoft's Surface and Apple's iPad to just name a few.
The $199 tablet features a Nvidia Tegra 3 quad core processor as well as a12 core Nvidia Tegra application processor that will run the just announced next generation Android operating system 4.1, code-named Jelly Bean and has a 1280 x 800 pixel display.
The Nexus 7 is designed to work with other Android devices so a user can start reading a book on their phone and pick up on where they were on the tablets. It supports interactive articles that enable a user to go from an article in a magazine to say a video showing an exercise being described in the article.
The Nexus 7 is built around using the company's Google Play store as a center of usage and said that it is available now for preorder with shipment expected for mid-July. It will come with a $25 credit to spend in the Google Play store as well as free books, magazines and others.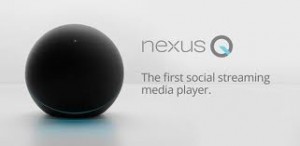 The company also showed its Nexus Q, a black ball that is a social media streaming device that a user can control via another Android device and is designed to access data and media that is stored in the cloud.
Designed to be set up from your phone it is essentially jukebox and movie player, and as the ability to serve as a center that allows your friends to add songs or movies from their devices to the playlist, and anyone can take control and rearrange the playlist to suit their tastes. Same with movies and YouTube videos. It will run Android 4.0 and feature 16GB of internal storage and have both Wi-Fi and Bluetooth capabilities.
The company displayed its Google Glass project, much to surprise of the audience. The live Google Glass demo started by showing ski divers in a blimp over San Francisco equipped with glasses. They jumped from the blimp and the glasses enabled the audience at the Moscone Center, and online viewers, to follow the divers as they descended onto the roof of the building.
They also employed bikers doing flips on the roof top and then building climbers to drop down the side of the building, all wearing the glasses. It was a very impressive live demonstration and I suspect it will give users of cameras such as GoPro a moment of pause.
But the company does not envision the Glasses to be just for recording information and video for friends but also make it easier to access information via your glasses rather than taking out a smartphone, unlocked it and then do a search for the required information.
The Glasses in Project Glass feature and array of technology including a display, a camera, a processor and memory to store what is being recorded as well as a touch pad, microphone, small speaker, sensors including gyroscopes as well as multiple radios for data communications.
Project Glass is still a work in process and the company was asking for feedback to see what else the audience, which features many of its top developers, would also like to have in the devices. It announced the Google Glass Explorer addition for developers and admitted it was still a rough product. Hopefully some of this will make it to YouTube.