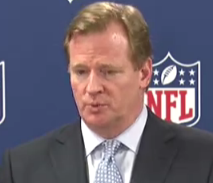 At a press conference Tuesday NFL commissioner Roger Goodell left no doubts about where the league stands on Wi-Fi in stadiums: He wants league-wide networks in every NFL venue, so that fans "don't have to shut down" their mobile devices.
Too bad the video from the NFL isn't embeddable (hint, guys: sharing is good) but you can view it here to get Goodell's no-questions-about-it take on Wi-Fi in stadiums as a neccessity. If you listen to the video you hear Goodell talk about all the things the NFL wants its fans to be able to experience digitally while at games — like access to the Red Zone channel, other highlights, and social media.
The devil, of course, is in the details and when asked about how much it would cost to equip every stadium with Wi-Fi, Goodell joked, telling the questioner "you sound like an owner." While the cost of putting a wireless network will vary at each location, Major League Baseball has a similar impetus and has roughed out the cost at around $3 million per stadium, which is pretty much in line with what we've heard and seen.
While some NFL stadiums have Wi-Fi in various areas, like luxury suites, we're not aware yet of an NFL venue with full blown Wi-Fi, like baseball's AT&T Park in San Francisco. Lucas Oil Stadium in Indianapolis got a bunch of upgrades for the Super Bowl but that was mostly quick-fix stuff like DAS, small cell antennas that are mainly a band-aid type solution for bandwidth and not something like full-blown Wi-Fi that can handle, say, multiple video streams.
As such Goodell admitted the Wi-Fi initiative wasn't something that would arrive by the 2012 season, though there might be some test situations where Wi-Fi gets unveiled. Certainly there is no shortage of service providers like AT&T and Verizon who are interested in stadium networking, as are gear suppliers like Cisco, Xirrus, Meru Networks, and possibly others like Brocade, which has apparently signed a deal to be the networking supplier for the new San Francisco 49ers stadium.
The good news is for the industry and for fans — with approval from the top of the league, Wi-Fi in stadiums is now a priority. App developers, integrators and others — start your innovation engines now.