ESPN's promise to further establish its presence in the soccer world despite losing out to Fox future World Cup matches is coming to fruition as the sports media company has taken the wraps off of its latest mobile app, this one that promises to provide comprehensive coverage online.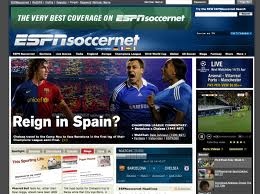 The company will leverage its established web site ESPNsoccernet to provide fans the level of news and information content that is currently available from that site but deliver it to mobile devices.
The app will enable users to personalize it to some extent adding their favorite team, league and tournaments to enable them to more easily follow the action on field and off. News from teams or leagues can also be groups so that it is available on a single page rather than having to go to different pages for the information.
The App is the latest in a series of International sports focused offerings
In addition to the static news there will also be a range of videos and podcasts available from the app including ESPNsoccernet Press Pass podcast, plus, video content from ESPN's studio-based discussion and analysis shows.
ESPN is striving for comprehensive coverage with the app, which is asking a lot considering the depth and breadth of soccer. Aside from the news a features it will of course have the scores from around the globe including tournament scores. The app will allow push notification so that both half time and full game results will be proactively delivered to the phones.
The app will initially only be available in the English language and only on Apple iOS powered devices but ESPN said that it expects to quickly expand the platforms that it is available to also include those powered by the Windows Phone, Symbian, and Android operating systems.
ESPN has been increasingly looking to mobile apps to enhance its position in the international market and has already launched two similar ventures that focus on mobile sporting content, including the ESPNF1 and ESPNcricinfo apps.