A new product from startup 4iiii Innovations could prove to be a boon for every jogger that has run into someone looking down to check their time or for every bicyclist that has hit a pot hole checking their heart rate monitor.
The company has debuted Sportiiiis (pronounced Sport-Eyes) it is a display technology that attaches to glasses to enable an athlete to check monitors for instant feedback.
Designed to be used with a heart rate monitor and other sensor technology, the Sportiiiis attaches to any set of glasses a user wears, be they sunglasses, prescription glasses or anything in between by using the device's universal attachment points.
A user first configures the device using software that can be used on a range of smartphones as well as PCs and Apple computers, setting performance goals and ranges within which the athlete wishes to work.
The device provides feedback that can be read off a multi-colored LED boom that runs across the bottom of the glasses between them and the user and can be followed by a user's peripheral vision without taking their eyes off of the road. The feedback can come from a rage of user-supplied monitors or sensors including heart rate monitors, speed monitors as well as power meters, via a wireless transmission.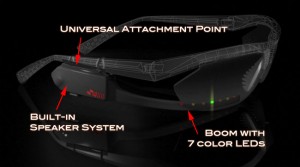 The projection shows current and recent performance and has a red light to indicate that the user is going too hard, green if just right and orange and yellow to show that they are in between. The Sportiiiis also include built-in speakers that provide audio feedback using either a male or female voice. Both the volume of the speakers and the intensity of the LED colored lights are adjustable.
To control the Sportiiiis a user accesses its Tip-Tap technology that allows a user to tap once to get audio feedback including current heart rate or cues related to the current workout while a double tap switches between sensors and can switch between power, cadence and speed.

The company is led by Kip Fyfe who has had previous success in related sports feedback development. He was the founder of Dynastream Innovations, a company that developed a variety of technologies and products, possibly the most notable being a sports sensor that was mounted in running shoes that featured speed and distance sensors and was first used by Nike.
The company also developed ANT +, an ultra-low power wireless protocol that is increasingly finding its way into a wide variety of athletic devices (including Sportiiiis) that provide real-time feedback. In 2006 he sold the company to Garmin for $46M CAD.
He said that he realized that it was inconvenient and even dangerous for athletes to take their eyes off the road to get feedback, and being an avid runner even during Canada's cold winters, we wanted to see his heart rate, speed and other information easily and simply, which gave both to the idea of Sportiiiis.
The device is expected to be on sale within the next month and will have a MSRP of $199.