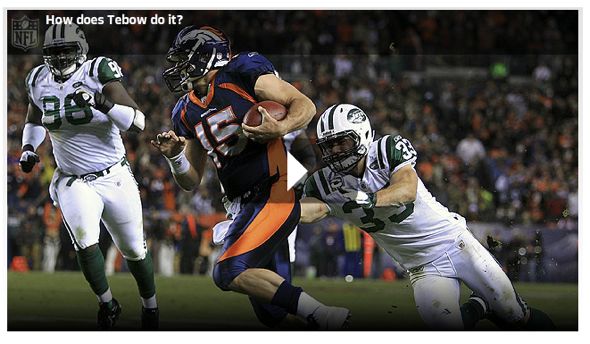 We didn't have a chance to check it out, but according to the NFL a half-million folks logged on to NFL.com/LIVE last night to check out a varied package of "in-game" highlights and analysis from the Thursday night tilt between the New York Rexes and the Denver Tebows.
According to the press release about the game viewership, the online portion was not a full streaming presentation but instead a mix of "live look-ins" and analysis from the NFL Network's various talking heads. From the release:
Nearly 500,000 fans logged on to the complementary online coverage of Jets-Broncos via NFL.com/LIVE Thursday Night Football presented by GMC, which features "live look-ins," highlights, statistics and instant analysis from a team of experts on-site and in NFL Network's Los Angeles studios.
And once again, having an online component did nothing to detract from regular over the air or cable viewers — so please, more online coverage! Again, from the release, the stuff you already know — that everyone likes football, especially on Thursday when there's no NBA.
Last night's New York Jets-Denver Broncos game on NFL Network was watched by an average of 7.1 million viewers (not including over-the-air stations in New York and Denver) – topping last year's Week 11 game by 31 percent (Bears-Dolphins, 5.4 million). After two games, Thursday Night Football is averaging 6.1 million viewers, up 17 percent over 2010.

Jets-Broncos is the fifth most-watched game in the six years of Thursday Night Football on NFL Network and ranked as the night's No. 1 show among all programs on cable. Other sports competition included North Carolina-Virginia Tech college football on ESPN, which drew 1.8 million viewers.