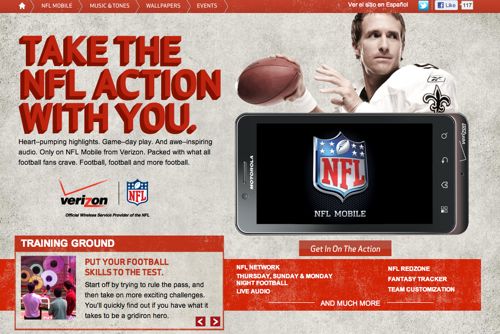 We finally upgraded our Verizon-based handset here at MSR headquarters this weekend, and just in time to catch some of the Sunday night game via the NFL Mobile app. For the record we have the Samsung Stratosphere, not the latest or greatest Android phone but one with a slide-out keyboard which is a necessity for me.
With the MSR grade-school contingent in the household busy watching the Aristocats on DVD, we dialed in the Stratosphere with the sound muted down and checked out NFL Mobile, and was supremely impressed. Not only did it show the Sunday night Eagles-Giants game in pretty good definition it didn't stutter or pixelate — and we were able to use the home Wi-Fi so that the data didn't count against our cellular plan.
After trying out several other options earlier this year, like the ESPN GameCast text play by play and the NFL.com highlights/text option it is clear that if you are an NFL fan and are at a decision point on your cellular provider it's hard to pick anyone else but Verizon. Earlier today we watched the NFL RedZone on the phone and it was again impressive — and only about 30 seconds behind the live RedZone broadcast on cable. So it's a perfect couch companion, letting you watch your game of choice on the big tube while keeping RedZone open on the phone to let you know if and when you need to flip channels.
We will reserve a final judgement until we have to use NFL Mobile on the cellular network and then see how much data live watching chews through. But for now mark us as a happy NFL fan who has a great new tool for mobile viewing, that being Verizon Wireless's NFL Mobile app.