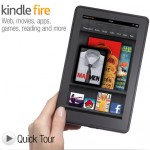 Editor's note: welcome to our Monday TechWatch feature, where we highlight gizmos, gadgets and devices that help deliver the mobile sports experience. Up today: a look at Amazon's Kindle Fire.
Amazon's much hyped Kindle Fire is about to make its long awaited splash in the market and its going to be a great success and its going to be a failure, just read the reviews. So to honor Johnny Cash we have a Ring of Fire today on tablets.
The Kindle Fire will be available tomorrow from Amazon-free shipping no less in 3-5 days!, with a $199 list price and a and is powered by a customized version of the Android operating system. But if you cannot wait the few days for it to arrive you can get into your car, drive down to Best Buy and pick up a model there.
Is the Kindle Fire an iPad killer?
Is the Kindle Fire an iPad killer? Probably not. Does a device need to be an iPad killer to be successful? No. This market looks to be huge and there will be room for a variety of tablets, in a range of forms and usage models, to find willing buyers. In fact market research firm IDC predicts that 62.5 million tablets will ship this year, and those won't all be iPads.
One reason that the Fire will probably not be a iPad killer, or for that matter any other tablet killer, is that it will, at least initially, have little appeal to businesses. Non-Amazon apps are treated as second class in terms of where they are displayed, but also Amazon is not positioning the Kindle Fire as such a tool. However expect that to change in the future as its price and features apply pressure on its rivals.
While the Fire is the news of the moment Samsung, which has quietly been building very good Android-based phones and tablets gets a top review for its Galaxy Tab 7.0 Plus from CNet reviewers who call the device the best 7-inch Honeycomb tablet.
If you are wondering what other uses a tablet are good for we recommend wandering over to look at what the good people at Ooyala have to say; they have been following online video viewership and compiling data for 5 years. In its first report on the topic Ooyala said that tablet users average 30 percent more viewing of online videos than PC users and completed watching 20 percent more than desktop PC users.
Seagate: Storage for Tablets
One of the big drawbacks that tablets have is their limited storage space. A 32GB capacity? Heck that will not cover 10 percent of my music collection. Well storage developer Seagate has a product that could fix this issue. The $199.00 GoFlex Satellite is a 500 GB drive that features a Wi-Fi radio so that you can connect wirelessly and stream music videos or whatever else your heart desires. There is a specialized app for iOS, while Android device users simply need to use their browser to operate. There are issues for Mac users so read the instructions carefully prior to purchasing.
Apple: Original iPod Nano Recall
Aside from tablet news, Apple has suffered from the battery draining issue caused by its recent iOS 5.0 update and now reports are coming in to say that the fix, version 5.0.1 does not fix the problem either. To add to the company's problems it has been reported that Apple is now forced to recall the original iPod Nano due to heating problems.