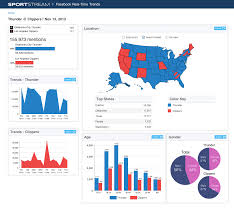 Facebook is working to make vague sporting references a thing of the past. OK not all of them but its recent partnership with Sportstream should help shed some light on many of the references that can be found in peoples' posts.
The relationship will enable Facebook to better compete against rivals such as Twitter where there is a huge amount of sports chatter, something that Facebook would like to gain a much larger share of going forward.
Sportstream already has the ability to parse through the publicly available data on sports from sites such as Facebook, Instagram and Twitter as well as following all of the games, league news and other relevant information such as athletes' social media accounts to present a picture of what is going on in sports.
Now Facebook will be opening the kimono and providing information that it culls from posts in its Keyword Insights API which aggregates what users are posting privately about as well as to what they are posting publicly via its Public Feed API.
While plenty of leagues and teams have Facebook pages, they are not usually one of the primary stops for fans to converse with each other. The deal with Sportstream will help Facebook track what fans are talking about and viewing, and help it present that information in context.
The deal represents a major step forward for Sportstream, which started out delivering apps for consumers that was in many ways a glorified football chat room. From there it morphed into a broader based sports app that followed multiple sports and provided filterable Twitter and other social media feeds.
It has a number of products but it is its Sportsbase solution, that enables teams to create custom social media products that enables customers to create custom team pages that track what is being said on Twitter, Facebook, and Instagram as well as what representing what is happening on the field.
The company has been seeing a growing interest in its analytical capabilities and has some impressive clients including the UCLA Bruins, Oregon Ducks, and the Miami Hurricanes.
There are other players in the field of collecting, collating and presenting social media with TigerLogic and its Postano platform offering very similar capabilities. However it appears to be primarily focused on providing that information to individual teams, but that can change.