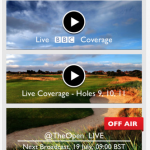 Though we originally got excited here at MSR when we heard that the British Open's app might feature another way to get live video of the event, as we expected, there is no getting around the need for a qualifying ESPN cable contract to watch the British Open via a mobile platform. As we said earlier today, this is ESPN's baby and they are not going to let someone else end-run their mobile video strategy.
The British Open app, built by the video-services folks at Ooyala and the R&A, does have some neat stuff in it, highlights on demand and a live fly by of the course. What threw us off was the app store screen shot (see left) that shows a button for live video. But upon further review the live video link from the app merely redirects you to the WatchESPN app — for which you need a contract with Time Warner Cable, Verizon FiOS, Bright House Networks or Comcast to access the online content.
So — the app may be less useful than it originally appeared, especially if you don't have a cable contract. According to Ooyala the app is available for Android phones, iPhones and iPads.